Microsoft details NORAD Santa Tracker 2013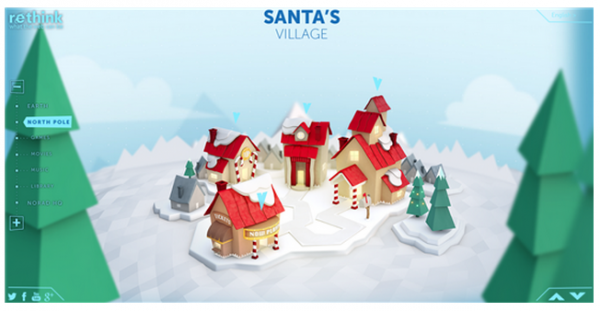 NORAD, the North American Aerospace Defense Command, has once again joined forces with Microsoft to power its popular Santa tracker this holiday season. The organization made a switch in 2012 from its previous partner, Google, to Microsoft and this time the two have big plans for improved features.
Microsoft claims this is the most immersive site yet. That's likely correct, given all of the 2013 additions. Visitors can take a virtual tour of Santa's North Pole village that comes with a 3D Claymation-style look that Microsoft says was "inspired by NORAD Tracks Santa's long history and the Claymation style classic holiday movies".
There is a countdown clock, holiday music, movies, a library, a new game being added every day, and everything has been optimized for touch. However, the real point of NORAD Tracks Santa is Christmas Eve, and there are big plans for that as well.
Once the jolly old elf takes off on December 24th, you will be able to follow his journey on a 3D globe which can be pinched and zoomed and rotated around. This is, of course, being powered by Bing Maps. "Whether you're mapping Santa's route in a browser on a computer or in an app, you'll see beautiful, high-fidelity images. Bing Maps is the canvas on which Santa's journey is plotted", says Microsoft's Roger Capriotti.
The NORAD Tracks Santa is live now, counting down second-by-second to the time that a miniature sleigh and eight tiny reindeer takes to the sky.