New USB connector announced -- type C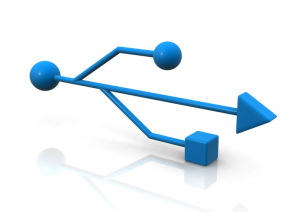 In August of this year, the USB 3.1 specification was completed. This was very exciting news for USB fans. Yes, there are fans of the connector. After all, USB can connect everything from mice and keyboards to hard drives and card readers. Quite frankly, how can you not be a fan of it? Today, the USB consortium announces a new connector -- type C.
"The new USB Type-C connector, built initially on existing USB 3.1 and USB 2.0 technologies, is being developed to help enable thinner and sleeker product designs, enhance usability and provide a growth path for performance enhancements for future versions of USB. This supplement to the USB 3.1 specification is anticipated to be completed by the middle of next year", says the consortium.
"Intel is excited to see the development of the new thin Type-C connector as it will enable an entirely new super thin class of devices from phones to tablets, to 2-in-1s, to laptops to desktops and a multitude of other more specific usage devices. This new industry standards-based thin connector delivering data, power and video is the only connector one will need across all devices", says Alex Peleg, Vice President of the platform engineering group at Intel.
The following characteristics of the cable have been revealed:
An entirely new design tailored to work well with emerging product designs
New smaller size -- similar in size to the existing USB 2.0 Micro-B
Usability enhancements -- users will no longer need to be concerned with plug orientation/cable direction, making it easier to plug in
The Type-C connector and cable will support scalable power charging
Scalability -- the connector design will scale for future USB bus performance
Sadly, the actual design of the new connector is still under wraps. It is not scheduled for industry review until Q1 of 2014, with final spec due mid-year. However, one thing is for sure, it will not be compatible with existing cables; a new line of conversion adapters will have to be released.
Are you excited for USB type C? Tell me in the comments.
Image Credit: Psycho / Shutterstock