Best Windows 8 apps this week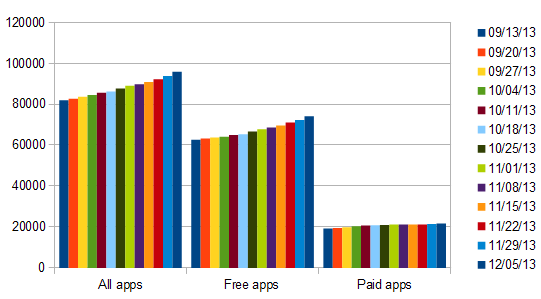 Fifty-eighth in a series. The application growth in Windows Store broke the 2,000 new apps mark this week which happened last in July 2013.
The release of Windows 8.1 has surely revived the store, and while it is too early to tell if the upswing will continue in the coming months, the outlook is quite good right now.
The total number of apps in the US Windows Store reached 95,793 today, an increase by 2,079 apps in total.
74,117 of those are free to download and install, while the remaining 21,676 apps are either commercial, trial versions or desktop programs.
Free apps increased by 1,796 this week, while paid apps were up by 283.
As far as updates to existing applications are concerned, Microsoft updated the official Lync app to make use of Windows 8.1 features. The updated application supports Snap now, lets you take control of screen sharing, comes with in-app volume controls, enables you to search contacts, and features improved notifications.
Microsoft released a new application this week, but quickly pulled it again. Tech Companion has been designed to provide professionals and enthusiasts with options to follow Microsoft technology news straight from the app.
It is not clear when the app will be made available again.
Skulls of the Shogun, Super Photo, and Pylon are this week's Red Stripe Deals. Skulls of the Shogun is available for $4.49 during the sale, Super Photo for $1.99, and Pylon for $2.49.
App of the week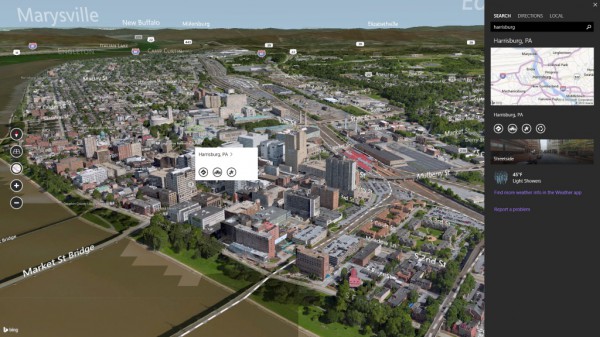 This preview of the next iteration of Bing Maps will install alongside the current version of Bing Maps on your device.
The preview adds 3D maps for select locations to Bing Maps that you can explore in high resolution.
Touch gestures have been optimized, and new gestures to rotate the map or change the angle of view have been introduced.
You can still use the app to look up local business information, for example to find nearby hotels, shops or restaurants.
What's new in this regard is the wealth of information displayed for each business. Here you find opening hours, phone numbers and other helpful information.
And if you sign in to your Facebook account or Microsoft account, you may get personalized recommendations from friends and associates as well.
Other apps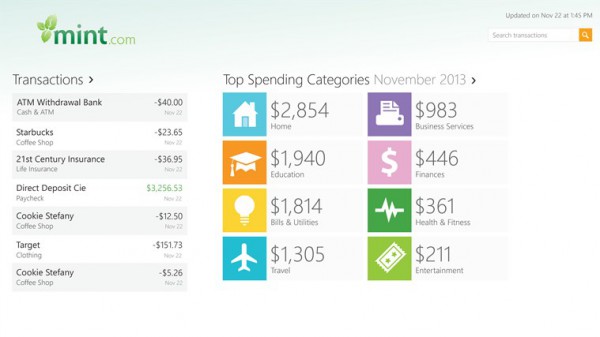 The official application of mint.com is now available on Windows 8.1. Existing Mint users can sign in to their account right away, while new users need to sign up for one before they can start to use it.
The app displays all finance accounts, can push updates directly to the start screen tile so that you are notified about updates without having to open the application first, and offers a number of charts and related information to provide you with overviews of transactions and budgets.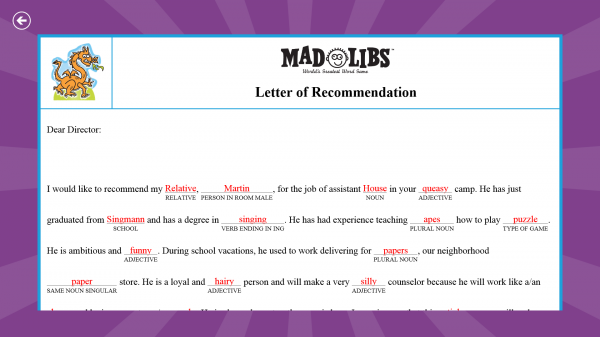 Mad Libs is a word game in which you create stories by filling out word blanks during the preparation phase.
The app may ask you for nouns, adjectives or names, and will use what you enter to create the story.
The Windows app offers hints, a sharing option, and options to add photos or images to stories that were created for you.
Watch NFL Network (US-only)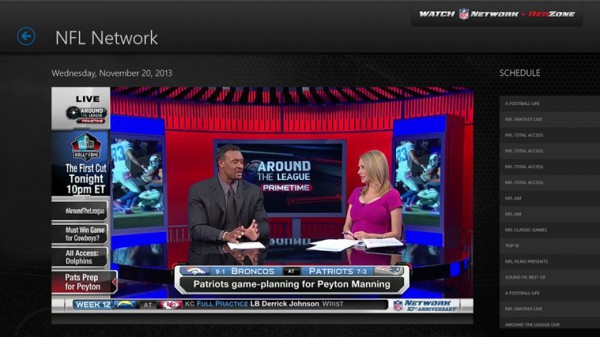 Watch NFL Network programming and NFL Redzone live using the Windows 8 application.
Features include Live Thursday night football games, access to all pre-season games (live or recorded), coverage of NFL events such as NFL Draft or Training Camp, NFL Films, and NFL Network shows.
Some features may be limited depending on the cable provider's programming package.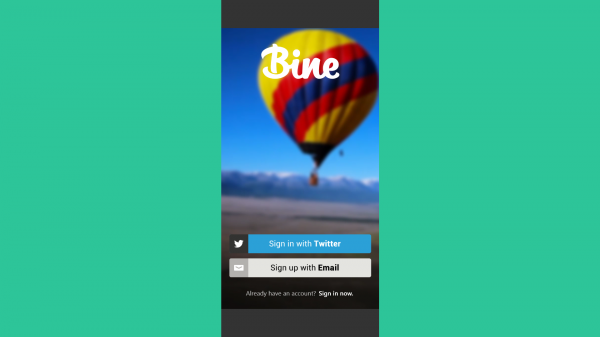 Bine is a third-party Vine client for Windows 8. It features options to record and share videos, and to explore videos made by other users.
You can use it to follow people, explore popular posts and hashtags, or browse editor picks.
Videos that you create are posted to Vine automatically, with options to share the videos to Twitter or Facebook afterwards.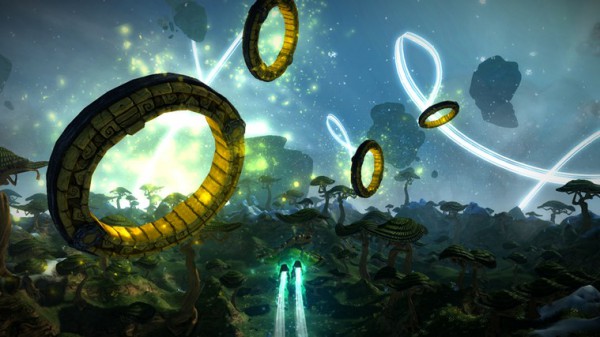 A beta version of Project Spark has been released by Microsoft. You need to request a beta key to start using the application. To do so, visit the Xbox website and click on the sign-up for beta access banner on the Project Spark page on the site.
Note that access is not granted instantly after you sign up for the beta.
Project Spark has been designed as a digital playground for gamers to create their own worlds or use the creations of others. It does not stop there though, as you can also find out how a particular world was created.
The final version of the application will be made available in Spring 2014.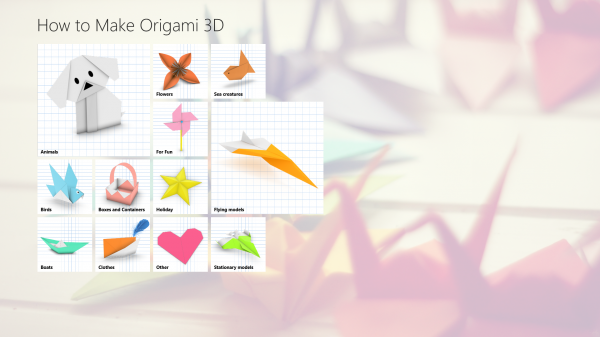 An application for children and adults alike that teaches the Japanese art of paper folding.
The main page of the application lists object groups of which you need to select one to get started. The animals group for example leads to ten different animal origami that you can learn to make.
If you pick Puppy here, you are taken to a screen that divides the instructions into easy to follow steps.
Note that you may need special paper to create the origami. It features several Holiday related designs, such as snowflakes and stars that you can create by following the instructions.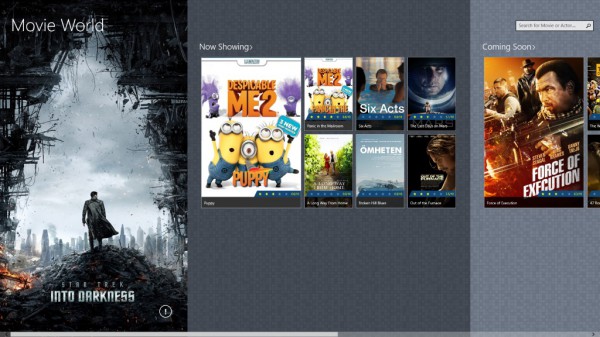 Movie World is a beautiful application that offers information about more than 150,000 movies. It display current and upcoming movies on the main page, as well as information about actors and latest films.
A click displays ratings, cast and crew, and similar movies. You can follow movies and watch trailers using it, but that is limited unless you make an in-app purchase to unlock the full version of the application.