Data Defined Storage: creating business value from Big Data for financial services organizations

Financial services organizations (FSOs) generate huge volumes of unstructured data -- volumes that roughly double every two years according to an IDC report. To the innovators this signifies increased opportunity for better business insights. However, mass volumes of data, although promising potential value, can also pose as a substantial challenge if the appropriate underlying infrastructure is not in place to enable organizations to store, protect and understand data, unlocking the value of information as a strategic business enabler.
Ever-increasing amounts of electronic data, growing standards of accountability, new rules governing data use and security have resulted in a need for a new approach for managing digital assets that support business policies and ensure long-term preservation of data -- without compromising quick discovery and access, should the need arise.
Banks and FSOs are turning to Big Data, using insights taken from daily transactions, market feeds, customer service records, location data, and click streams to carve out new business models and services to transform the go to market strategy. Between 60 to 80 percent of all data in the financial services industry is currently unstructured, causing major cost and compliance challenges that make it difficult for these organizations to gain value from their data.
Introducing Data Defined Storage
These challenges can be solved by implementing an infrastructure based on Data Defined Storage, a data centric management methodology, which combines application, information, and storage tiers into a single, integrated, highly scalable, management architecture. This empowers financial services organizations to extract real business insights from their existing data. It allows users, applications and devices to gain access to a repository of captured metadata and data to manipulate the critical components of the data, transforming it into information, while providing a flexible and scalable platform for storage of the underlying data.
There are many benefits of Data Defined Storage, mainly when it comes to compliance, data governance and unification. By improving and automating data governance processes such as the indexing of data, data classifications, tagging and improved corporate compliance, FSOs increase their effectiveness. This is enabled through streamlining business processes to improve search capabilities, conducting early case assessments and other data-centric activities. The availability of regulatory compliance reporting allows organizations to stay one-step ahead of regulatory requirements and ensure transparent communication with teams, offices and relevant stakeholders.
As financial data flow into organizations, users can automatically separate the different log data that is generated by the trading platforms as flat text files, and assess content and type. Then, based on its business value, they can automatically separate and tag data types such as trade log data, market data necessary for best execution retention, market ticker data, and generic ticker data from irrelevant markets. Each of these different data types has different business value and can be deployed for various purposes, ranging from tracking and processing trading activities and satisfying regulatory demands to driving predictive analytics for future trading. The data can be either saved for long-term retention on tape, or destroyed if irrelevant to business objectives.
Creating Business Value from Data
In the quest to optimize data as a strategic asset, FSOs must make data management invisible to end-users, much like the way a car engine functions is invisible to drivers who step on the gas pedal.  With a Data Defined Storage solution, the equivalent of the car is an application that provides -- for instance -- a unified approach for compliance and search while enabling security-- all at the data level.
Data Defined Storage provides three-core business benefits: improved operational efficiency for reduced total cost of ownership by up to 80 percent over time; reduced business risk by addressing data security and information governance challenges; and finally, enhanced business agility and decision making for improved revenue growth.
Image credit: Sergey Nivens/Shutterstock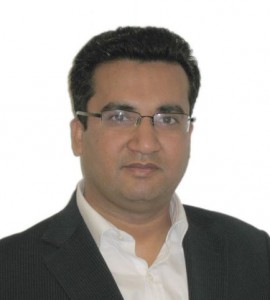 Shahbaz Ali, the President and Chief Executive Officer of Tarmin, is a visionary entrepreneur and strategic executive manager with more than 20 years' experience creating dynamic solutions for enterprises. Shahbaz serves as the public face of Tarmin and brings the vigor and experience of a seasoned entrepreneur with a history of successful companies. Shahbaz today oversees all core business activities, including marketing, partnership development and sales at Tarmin. Shahbaz is the creator of the company's award-winning GridBank product.