Extra! Extra! Google improves mobile news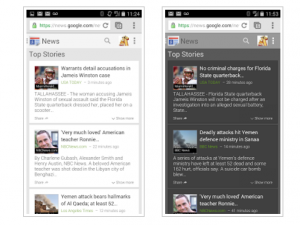 If you've been on a bus or subway lately, you probably observed many people consuming the news on a mobile device. However, this is not a new phenomenon. After all, 20 years ago, you would see people consuming the news on-the-go too -- just in paper form.
While the medium and method of consumption has evolved, on-the-go news can still improve. Today, Google announces that it is improving its news service in mobile browsers. Sadly, Windows Phone users are getting the shaft again -- it is an Android and iOS-only affair.
"Increasingly people are reading News on the go and using their smartphones to keep abreast of the latest happenings around the globe. Over the next few days Google News readers on Android and iOS devices will start to see a beautiful new version of the mobile web app that will provide an improved overall experience resulting in a kind of real time news desk for you on your phone", says Mayuresh Saoji, Product Manager, Google News and Social.
Saoji lists the following new features:
Improved overall look-and-feel making it easier to read and track separate stories.
Ability to customize the web app to suit your taste by changing the theme from light to dark, the font size and opting for a larger "story card" with more information per story at your fingertips (from the Settings menu, at top right).
Simplified navigation to any section within News; just click on the Google News icon (top left) to see a list of available sections (including any custom sections you created).
Easier integration with Google Feedback located in the menu at the top right.
A weather gadget in the Local section.
The popular "Editors Picks" option.
Social posts from Google + related to the story are included in the article cluster
Sadly for most of the world, this upgrade is only being released in the USA for the time being. However, Google promises to release it globally "soon". If you are interested in trying it, simply visit news.google.com from Chrome or Safari on a mobile device.
Photo Credit: Ryan Jorgensen-Jorgo/Shutterstock