Helicon Photo Safe is not just another free photo manager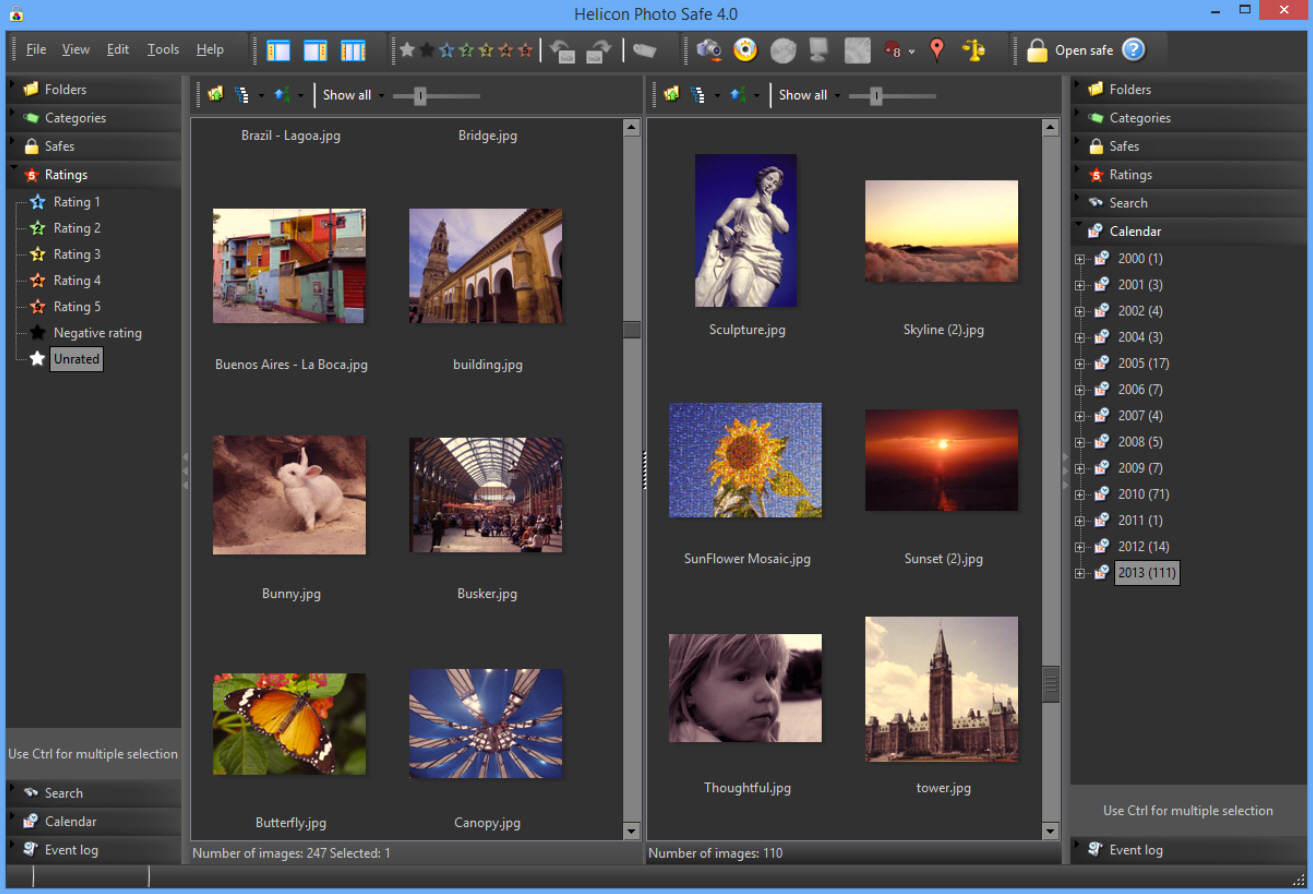 Your digital photo collection is a mess? You could install a free photo manager to help you out, but don't expect too much: they're often just identikit "me too" apps which provide little more than you'll get with Explorer.
There are occasional exceptions, though, and Helicon Photo Safe is a great example, with a host of genuinely useful functions and features helping it stand out from the crowd.
The program may open with a conventional thumbnail browser, for instance, but this doesn't just display the usual JPEGs, PNGs and GIFs. It can also handle TIFFs, DNGs, PSD files, and a good range of manufacturer-specific RAW formats (Canon, FujiFilm, Kodak, Minolta, Nikon, Pentax), so you should immediately be able to see everything that matters.
As usual, double-clicking any image opens it in an excellent viewer. This isn't just some static full-screen display, either. You can dynamically zoom in and out just by moving your mouse cursor and spinning the mouse wheel; buttons to rate, categorize or delete the image help speed up photo management; and Back/ Next navigation buttons mean you can browse an entire folder of pictures in a few clicks.
Spot a photo with issues and the "Quick Edit" window may be able to help. This provides capable Crop and Rotate tools, an easy way to straighten skewed images, along with adjustments for brightness, white balance, saturation and sharpness.
You'll probably want to know whether your photo collection has any unnecessary duplicates. Most photo managers either can't tell you, or force you to open a separate search tool, but Helicon Photo Safe is different. If a photo has duplicates then you'll just see a number above its thumbnail, and clicking this will display the pictures for your review.
Maybe you have pictures which are similar, but not exactly the same? A useful comparison tool displays the two candidate images in separate panes. This supports synchronized zoom, too: pan and zoom the first image, and the second automatically follows, making it quick and easy to spot any differences.
If you need to copy photos from one folder to another, or perhaps compare the contents of two folders, then you'll appreciate the program's two pane view. This has two independent thumbnail browsers, side by side, and you can drag and drop whatever images you like from one to the other.
There are plenty of extra features on offer here. You can geotag photos with Google Maps; upload them directly to Facebook, Flickr or Picasa; perhaps burn them to CD or DVD. And you can even store personal photos in a "Safe", a secure container whose contents only become visible once you've entered the password.
And the authors claim all this happens at high speed, almost regardless of your library size, with Helicon Photo Safe able to browse "hundreds of thousands of images without any performance hiccups".
The program also has some notable issues. The thumbnail color balance didn't seem quite right for some of our images; we could add an external editor to the toolbar (an "open with" option), but it wouldn't launch; and the program crashed once (we never figured out why).
Helicon Photo Safe is still an impressive tool, though, which goes beyond the basics to deliver far more than we'd expect from a free photo manager. Give it a try.