LG G Pad 8.3 becomes the first-ever Google Play Edition tablet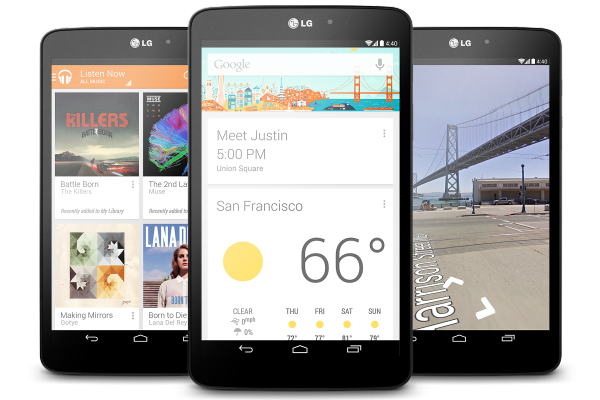 Android fans are very particular about their devices. For many, a Nexus device is the only way to go. After all, Nexus devices are usually the only way to run pure Android and get fast updates. However, what are you to do if you want the pure experience, but don't like the current offering of Nexus devices?
Google remedied that dilemma earlier this year by releasing Google Play Editions of the Samsung Galaxy S4 and HTC One. These phones run pure Android rather than the skinned versions by the handset manufacturers. Today, LG announces that its LG G Pad 8.3 is the first-ever tablet to be designated a Google Play Edition device. Will it be a Nexus 7 killer?
"LG's working relationship with Google has always been strong and our collaboration on the first-ever Google Play Edition tablet is proof of that commitment. The LG G Pad 8.3 Google Play Edition is a device with hardware and software that has been optimized for a truly consumer-friendly experience. There's nothing else like it out there in the marketplace", says Dr. Jong-seok Park, president and CEO of the LG Electronics Mobile Communications Company.
LG further explains, "with the perfect combination of KitKat's Full-screen Immersive mode and LG's stunning 1920 x 1200 WUXGA Full HD IPS display, this special edition of LG G Pad 8.3 offers an optimal viewing experience. Apps can utilize every pixel on the G Pad 8.3 screen to create full-bleed UIs reaching edge to edge. With the ability to hide the system UI such as the status bar and navigation bar, this feature is ideal for rich visual content such as photos, videos, maps, books and games".
LG details the following specifications:
Processor: 1.7GHz Quad-Core Qualcomm Snapdragon 600 Processor
Operating System: Android 4.4, KitKat
Display: 8.3-inch Full HD IPS WUXGA (1920 x 1200 pixels / 273 ppi)
Memory: 16GB eMMC
RAM: 2GB LPDDR2
Camera: Rear 5.0MP / Front 1.3MP
Battery: 4,600mAh
Connectivity: Wi-Fi
Size: 216.8 x 126.5 x 8.3mm
Weight: 338g
Colors: Indigo Black
While the screen is bigger than the Nexus 7, the PPI is less (273 vs. 323). However, LG's tablet has a micro SD card slot and a larger battery. Most importantly though is price -- the Nexus 7 is $229 for a 16GB model while the LG G Pad 8.3 is $349. Is the larger screen, larger battery and expandable storage worth the extra money? Tell me in the comments.