ShareX is an ultra-configurable screengrab tool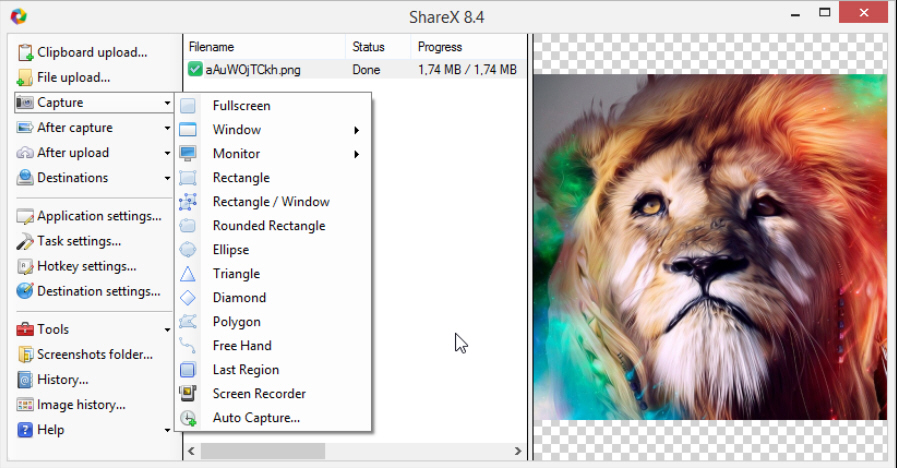 It's easy to capture screens in Windows: just press PrtSc, Alt+PrtSc or Win+PrtSc (which saves a grab to disc in Windows 8). Unfortunately, the capture is just the beginning, and you'll then have to spend quite some time editing, annotating, uploading, sharing and otherwise handling your image.
If you're looking for an easier life, then, we would forget about the standard Windows tools, and install the open source ShareX, instead. Not only does it have many more features, but most of them can be entirely automated, so you can get your captures finished with no hassles at all.
The program scores well on capture types. Along with the usual full screen and window grabs, it can also capture rectangles, ellipses, triangles, diamonds, polygons and freehand shapes. There's support for multi-monitor systems, and even a screen capture tool to save desktop activity as an AVI or animated GIF.
Any image you might grab can be processed in many ways. You can crop, resize or rotate it; annotate it with lines, arrows, shapes, textboxes and more; obscure confidential details (passwords, say) with the obfuscator; customize it with a watermark, or apply special effects, including borders, shadows, torn edges and more.
You can do all this in a conventional-looking editor, but what's different with ShareX is that you're also able to automate most of these steps. If you want to tweak an image colors, resize and rotate it, add a shadow, perhaps a border, then there's no need to do this manually, each time: just string together the various actions you need and ShareX will handle them for you.
Once this is done, ShareX could just copy the results to the clipboard. But it can also save the image to disk (using your preferred format for the name), send it by email, or automatically upload the grab to more than 30 online services: Twitter, Flickr, Picasa, Photobucket, Dropbox, RapidShare, Google Drive and more. There's even a module to create custom uploaders for sites which aren't in the list.
The program still hasn't finished, though. Once the capture has been uploaded, you can have ShareX do something with the link: use your preferred URL shortening service, post it on Twitter, send it in an email, maybe just paste it to the clipboard. Of course this can be automated, too.
All this power can seem intimidating, at least initially, as there's just so much to learn. But if you do a lot of work with screengrabs then it's definitely worth exploring what ShareX can do, as the program's automation abilities could save you a great deal of time.