Don't wait for Windows 'Threshold', get a Start button and menu in Windows 8.1 NOW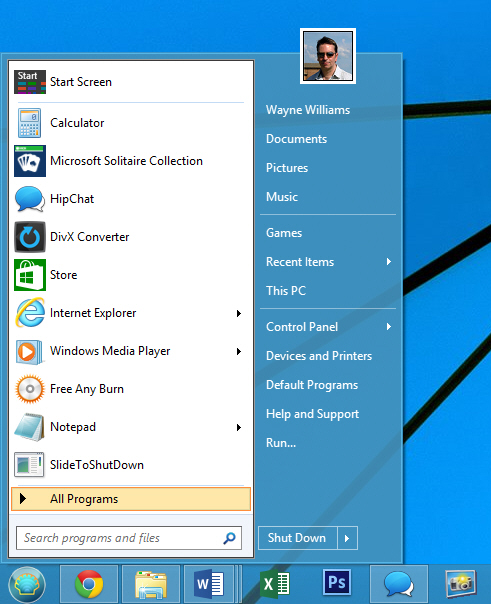 According to Microsoft watcher Paul Thurrott, Windows 8.2, or "Threshold" as it's apparently being referred to internally at Microsoft, could see the return of the Start menu for desktop users. "After bringing back the Start button in Windows 8.1, Microsoft will take the next logical step in the next Windows version and make the Start menu available as an option. It's possible this will appear only on those product versions that support the desktop", claims Thurrott. He also suggests Threshold will allow users to run some Modern UI apps on the desktop, as you can using ModernMix.
The absence of a real Start button and menu is seen by many as one of the main reasons why Windows 8.x is doing so badly. The Start button and Apps screen in Windows 8.1 is -- for me -- a great compromise, but it seems many consumers would rather just have things back how they were, and if Thurrott is right those disgruntled users might finally get their wish when Threshold arrives sometime in 2015. Don't want to wait that long to get a proper Start menu in Windows 8.x? The good news is there are plenty of quality third-party options available now.
Although I've covered alternative Start buttons and menus here before, it doesn't hurt to take a fresh look at what's available, especially as most of them have been recently updated to function properly under Windows 8.1.
This list is by no means exhaustive, but it will provide a good starting point if you're struggling to get along with the Modern UI in Windows 8 or 8.1, or want to upgrade to the tiled OS but are put off by absence of a real Start button and menu.
Free
Classic Shell (last updated 20 October with some minor compatibility tweaks and fixes). My personal favorite Start menu and highly recommended.
StartW8 (last updated 25 October with new features and full Windows 8.1 support).
IObit StartMenu8 (last updated 2 December).
Not Free
Start8 (last updated 5 December). Priced at $4.99, and there's a 30-day trial version available.
8StartButton (last updated 3 December). Although there is a free version, it has limited functionality. The paid edition costs $9.95 (plus taxes).
StartIsBack+ (last updated 8 November). The + version is specifically for Windows 8.1. There's also a separate version for Windows 8. Both cost $2.99 (for one PC). There's a 30-day trial available.
RetroUI Pro (last updated 4 November). There are different versions for Windows 8 and 8.1 and the program costs $4.95. There's a 7-day trial or you can get a free license by liking the RetroUI page on Facebook.
Hate the Start Button?
If you're not a fan of the new Start button Microsoft added to Windows 8.1, and prefer the cleaner look of Windows 8, you can remove the button entirely, using the free StartIsGone.