Nokia Lumia 2520 trumps Microsoft Surface 2 in display quality test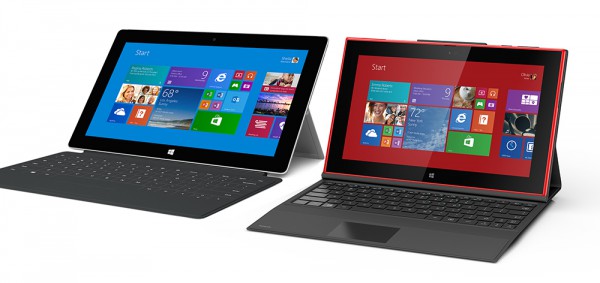 Consumers who are in the market for a Windows RT tablet currently have two main options to choose from -- the Microsoft Surface 2 and Nokia Lumia 2520. The former has the upper hand when it comes to availability, as it is sold in a significantly larger number of markets, while the latter offers extra connectivity options -- namely 4G LTE -- and a wider color palette. But as it turns out the Lumia 2520 also has a better screen, according to a new DisplayMate test.
"With virtually identical functionality and OS software, it is the quality and performance of the displays that really differentiates these Windows Tablets", says DisplayMate CEO Dr. Raymond M. Soneira. "The display on the Nokia Lumia 2520 is impressive while the Microsoft Surface 2 is mediocre and a disappointment".
The Lumia 2520 display (10.1-inches) bests the Surface 2 counterpart (10.6-inches) when it comes to density -- 218 ppi vs 208 ppi (pixels per inch). It, however, offers less screen estate -- 43.6 square inches vs 48 square inches. Both ship with the same 1920 by 1080 resolution.
With 684 nits the Lumia 2520 is considerably brighter compared to the screen on the Surface 2, which has 394 nits (almost 74 percent less bright, by comparison). "The display on the Nokia Lumia 2520 provides record high ambient light performance and screen readability, with by far the brightest mobile display we have ever tested", says Soneira.
Even though the Lumia 2520 lags behind other tablets when it comes to color gamut (range of colors), it still performs better compared to the Surface 2. Same goes for Contrast Rating for High Ambient Lighting; in this test, Nokia's slate registers the highest rating -- 120 -- of all tablets tested by DisplayMate.
Soneira says the Surface 2 display is "excellent" for text-based software like Microsoft's own Office suite, but is not suited for multimedia where it has "noticeably bland and mediocre" colors. The word "mediocre" was also used to describe its ambient light performance. Soneira says the Surface 2, in this respect, is comparable to Apple's iPad 2 -- which launched in early-2011 -- and not the latest round of iPads and Android slates.
Which one would you choose?