I love Google, so I bought an iPad Air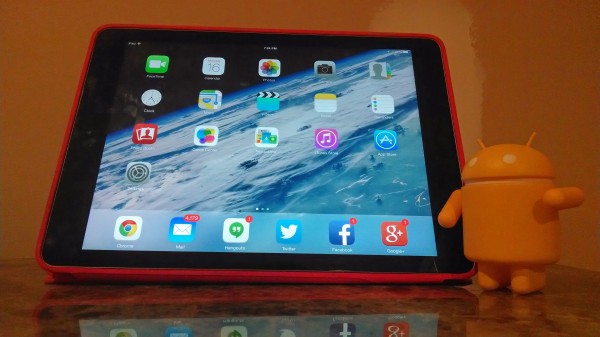 Despite their similarities, Android always seemed to exist to be the opposite of iOS. In other words, if Apple's mobile OS was popular culture, Google was a counter-culture. In the earlier days, Android had copy and paste, removable batteries, expandable memory, the ability to tinker, but many of those differences are virtually gone -- through Apple's additions and Google's subtractions. It was because of those differences, that I entered into the Google ecosystem with Android -- I have been rather happy. Lately however, I have been a bit unhappy with the direction of Android. Locked bootloaders, lack of SD card slots, non-accessible batteries. Sure, these things are technically not a part of the Android OS, but they are a part of the overall experience. While iOS doesn't offer these things either, at least Apple was upfront about that from the start.
When Apple announced the svelte, yet powerful iPad Air, I was immediately in love. The dark holo theme of Android is just utterly depressing. Conversely, the iPad Air is bright and beautiful, thanks to iOS 7. My problem though, was that I was deeply entrenched in Google's world -- I was worried about moving to a competitor's platform. I love Google services like Gmail, Google Maps, Chrome and YouTube. Quite frankly, I cannot live without those things. Despite these fears, I bought an iPad Air and couldn't be happier. Not only is the build quality better than any Android tablet, the overall experience is better thanks to the superior UI. Not to mention, all of my desired Google apps are on iOS and they look and work better on Apple's operating system too.
Google+ for instance is much smoother and offers colorful bars at the top when refreshing. There are many style cues that make you think that Google app developers prefer Apple's platform. I even discovered a beautiful app called "YouTube Capture" that is not even found on Android. It is a wonderfully useful app for vloggers as you can record and edit YouTube video on the go. Why this is not on Android, I do not know -- it is mind boggling.
While Safari looks better than Chrome (personal preference), I chose to make Google's browser my default. It simply makes things easier, as I can sync my bookmarks, passwords and settings across Windows and Android too. When it came time to message my friends and coworkers, I found that Hangouts was available too. It works just as well as on Android.
Amazingly, Google Now is even here. By installing the Google Search app, I can access the same card-based system as on Google's operating system. This also felt much smoother on iOS. All of my sports scores, weather and traffic updates were as to be expected.
Of course, the iPad now comes with mobile versions of Apple's premium apps for free too. While Google started offering the functional Quickoffice on Android for free, it is no match for the premium experience of iLife -- Pages, Numbers and Keynote. These apps were previously $10 each, so to get them for free is an amazing value. Also available for free is iLife, which includes iPhoto, iMovie and Garageband.
So, the question for Android users is, what is the point? If you can use iOS and have access to both Apple's and Google's apps, why not make the switch? In other words, why not have the best of both worlds? I love my new iPad and it is the best Google experience on the market. If the iPhone 6 has a bigger screen, I may have to switch my smartphone allegiance too.