Quickly take, upload and share screengrabs with ICUP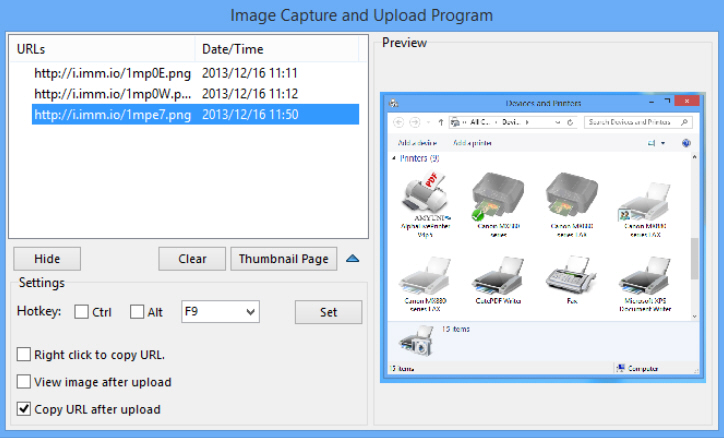 There's not exactly a shortage of PC screen capture tools around, but Starpunch's Chris Gingerich has just added another with ICUP (Image Capture and Upload Program). Is it worth your time? We took a look.
Setup is unusually flexible. Run ICUP.exe and it'll offer to install itself locally; refuse and it'll run as a portable version, with the option to install it fully later. Either way, there's no adware or other marketing trickery here.
Pressing the hotkey launches the program, and you're able to click and drag to define the capture area. Press Enter when you're happy, the grab is saved and uploaded to the image sharing site imm.io, with its link copied to your clipboard, ready for immediate sharing.
If you need to take several captures then you'll appreciate ICUP's history list. You're able to view a list of image URLs; clicking on any of these displays a preview of that grab, and right-clicking the link displays options to edit the image in Pixlr (a very impressive tool), re-copy its URL to the clipboard, or remove it from the list.
There are a few configuration options, too, although they're not so easy to spot (you need to click the arrow to the right of the "Thumbnail Page" button). Here you're able to define a new hotkey, and tell the program to display the image after it's been uploaded, along with one or two smaller tweaks.
The main weakness here is that you only get one capture type: a freehand rectangle. If you want to capture the whole screen, or a window, then you have to move your mouse to one corner (with pixel-perfect positioning), click the left mouse button and drag to the other. It's not difficult, but it's harder than the regular Windows PrtSc and Alt+PrtSc options, an issue in a program which is trying to save you time.
Still, ICUP is brand new, and we suspect more capture types will be added, along with other goodies, in the near future. But even now, the program provides a quick and easy way to upload freehand captures. Pixlr editing support is useful, the ability to install ICUP or run it as a portable edition is also convenient, and we're interested to see how the program will develop.