LG announces the Chromebase -- Chrome OS all-in-one desktop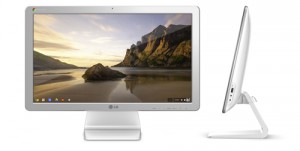 Chrome OS is primarily a laptop-focused affair. In other words, most users of the platform utilize Chromebooks. Sure, there have been mini-desktops called Chromeboxes, but they have been few and far between.
This is problematic for some consumers interested in Google's Linux-based, web-dependent operating system. Believe it or not, there are people that still enjoy sitting at a desk with a large screen, keyboard and mouse; myself included. Today, LG announces it is filling the gap with Chromebase -- a Chrome OS all-in-one desktop computer.
"The LG Chromebase (Model 22CV241) offers the highly efficient Chrome operating system for a fast, simple, secure and affordable computing experience. Along with the unique OS, a 21.5-inch widescreen Full HD IPS display and a raft of advanced features, this innovative new desktop computer comes packaged in a chic, space-saving design", says LG.
Caesar Sengupta, vice president of product management, Google says, "Chromebase is an exciting new form factor that expands the options available to customers who want a fast, simple and secure computing experience for the home, school or office. LG Electronics makes great devices that customers love, and we're glad to welcome them to the Chrome family".
LG touts the following specs:
Processor -- Intel Haswell-based Celeron CPU (no speed provided)
Display -- 21.5-inch Full HD (1920 x 1080) IPS
Memory -- 2 GB
Storage -- 16GB iSSD
Ports -- HDMI-in, USB 2.0 x3, USB 3.0 x1, LAN
Accessories -- Keyboard, Mouse, Cable Organizer
Webcam -- 1.3 M 720 HD
Sadly, while the form factor is appealing, the specs are not. A paltry 2GB of RAM is included -- not enough for an optimal experience. Chrome OS likes RAM and quite frankly, anything less than 4GB is unacceptable at this point.
A release date and price is not yet available. However, LG will be demonstrating the all-in-one next month at the 2014 International Consumer Electronics Show (CES). Are you interested in a Chrome OS all-in-one? Tell me in the comments.