Citrix releases GoToMeeting for Windows Phone 8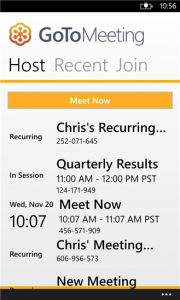 Citrix has launched GoToMeeting for Windows Phone 8, an app which allows users to create or join online meetings from their smartphone. The popular solution arrives in Store following its release on Windows, OS X, iOS and Android, and is one of the latest high-profile releases on the platform alongside Instagram, Vine and others.
The Windows Phone 8 version of the app allows users to join a meeting or webinar either by entering the Meeting ID or tapping a link included in a calendar appointment or email. GoToMeeting can show "whatever the presenter shares on-screen", including presentations and reports, and supports gestures like pinch to zoom (for content).
Other features include the ability to switch to a different orientation (portrait or landscape) in order to customize the view of the meeting, and communicate via voice either through the Internet or phone.
GoToMeeting currently has a five-star rating in the US Windows Phone Store, based on an average of nine reviews. Of the little feedback provided so far, it is worth pointing out that users commend the app's release on the platform, even though it arrives later compared to its rivals, and the working feature set.
Citrix currently has two apps in Windows Phone Store; the other offering is Citrix Receiver, which is designed to allow employees to access their work files, apps and desktops from their smartphone.
GoToMeeting is available to download from Windows Phone Store.