Cyanogenmod comes to the Nexus 5 -- in case form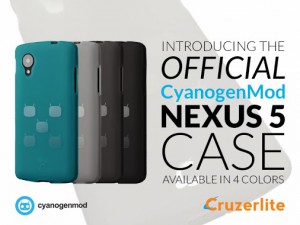 The Nexus 5 is both beautiful and inexpensive. Even though the smartphone doesn't cost a lot, it is still a good idea to protect it with a case. However, finding a good case can be hit or miss. When I reviewed two such cases, I found that the official Nexus 5 case was poor, while the much less expensive Cruzerlite Bugdroid Circuit was great.
Sadly, neither of those two cases embody the true openness and hackability of the Nexus 5. After all, when you buy a Nexus device, you want people to know it. Luckily, Cyanogenmod Inc announces a partnership with Cruzerlite to create an official Cyanogenmod case. What better way to show off your Nexus device than with a case that represents (arguably) the most popular custom ROM?
The company says, "just in time for the holidays, Cruzerlite and the CM team present the Official CyanogenMod case for all you Nexus 5 owners out there! Available in your choice of four colors, this design comes from community member Asher Simonds -- who also made the Nexus Experience pattern wallpapers seen in CyanogenMod".
Cruzerlite lists the following features:
Keep your Google Nexus 5 safe and protected in style.
Slip onto your Google Nexus 5 to add color.
TPU is more cut and tear resistant than rubber. It is abrasion resistant, and has a high degree of transparency. This skin is more stiff than silicone skins, but remains flexible.
Application and removal are easy.
Shock absorbent, shatterproof, and anti-scratch material.
If you own a Nexus 5, you can purchase the official Cyanogenmod case in various colors at the following links: Black, Clear, Smoke and Teal.
Will you buy this case for your Nexus 5? Tell us in the comments.