Best Windows 8 apps this week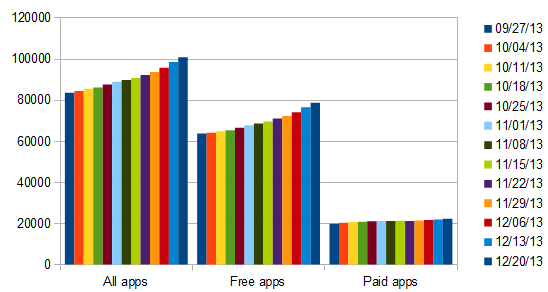 Sixtieth in a series. The US Windows Store on Windows 8.1 passed the 100,000 apps mark this week.
Users of Windows 8.1 who access the store have now 100,962 apps at their disposal that they can download and install on their system. This is an increase of 2,383 apps over last week, and while the overall growth slowed down a bit, it still means that it stayed well above the 2,000 apps per week mark.
Roughly three quarters of those apps, 78,746 to be price, are free to download and install, an increase by 2,126 in the last seven days.
The 22,216 paid apps and desktop apps increased by only 257 this week.
If you have opened the store in the last couple of days, you may have noticed that the store categories are now listed prominently as visible links in the store. This includes general categories on the store's front page, but also sub-categories when you browse a specific category in store.
This has likely been introduced to improve the visibility of categories in the store, as they were hidden in the right-click menu before.
App of the week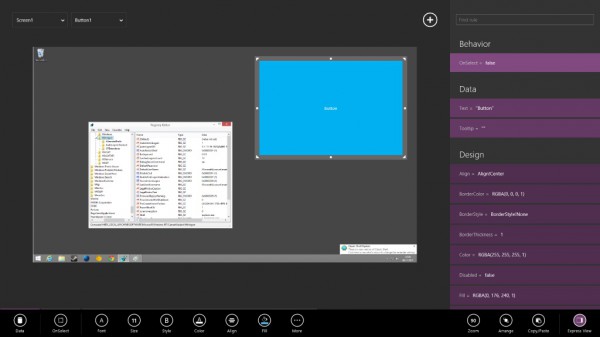 Project Siena has been designed to provide anyone with the means to create apps for the Windows operating system.
There is no programming involved, and while the resulting apps are limited in terms of how they look and what they offer, it has never been easier to create apps without any coding knowledge.
All you do, basically, is add data to the app that you want included. This includes a background image, other visuals such as labels, buttons, toggles or drop down menus.
It works similar to HTML creation engines that you can use to create a website without any HTML or CSS knowledge.
Just pick the elements that you want displayed, add behavior and other information to them, and test the created application before you save or publish the application.
You can use Project Siena to create basic applications for yourself or contacts, or to visualize an app idea for designers and coders.
Other apps
Catan ($3.49, free limited trial)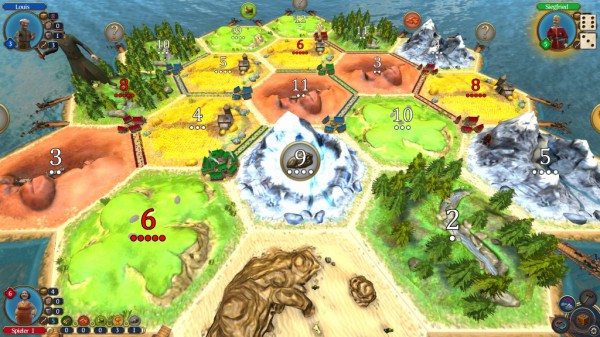 Catan is a faithful adaption of the board game Settlers of Catan that you can play in hotseat mode on a single PC, or against the computer in single scenarios or the built-in campaign.
The basic board game version is available for play when you purchase the game. The Seafarers and Cities and Knights expansions are available as in-app purchases as well.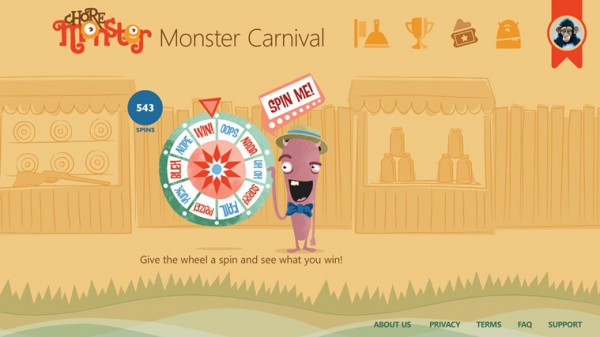 The application has been designed to playfully reward children who do chores. Kids earn points for completing tasks such as picking up clothes, clearing the table, unloading the dishwasher or anything else that you add to the application.
Chores can be configured to be available once, or on a repeat basis. Each completed chore earns points that children can exchange for rewards such as ice cream, an hour of TV or Xbox, or anything else you select.
It is necessary to create an account for yourself and at least one kid on the ChoreMonster website before the app can be used.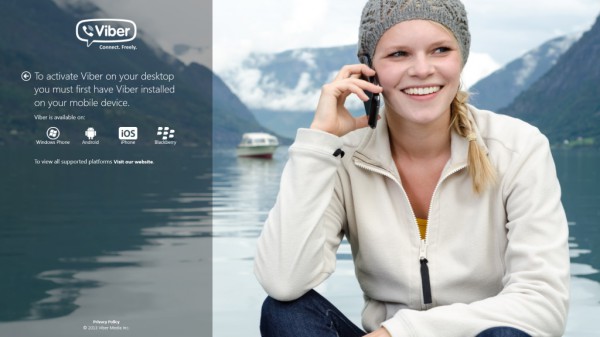 The popular VOIP application Viber is now also available on Windows 8. If you want to use the app on Windows 8, you need to have it installed on your mobile phone first.
The app is available for Android, Windows Phone, iOS and Blackberry. It is then necessary to enter your mobile phone number once for verification purposes.
When you are in the app, you can use it to send text messages to all of your contacts, make free calls to them, share photos or videos, or create call groups with up to 40 participants.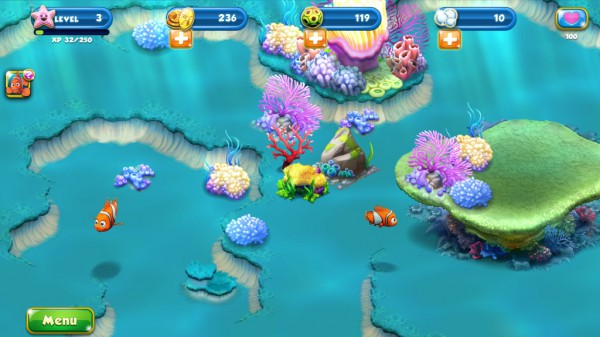 You follow Nemo and his friends in Disney's Nemo's Reef game. Collect resources and start to build your own underwater home.
Meet characters such as "Dad", Dory, Gill, Bloat or Bubbles while you are adding new plants or decorations to your home, and earn rewards completing missions that the game provides you with in abundance.
GhostControl Inc. ($7.99, free trial available)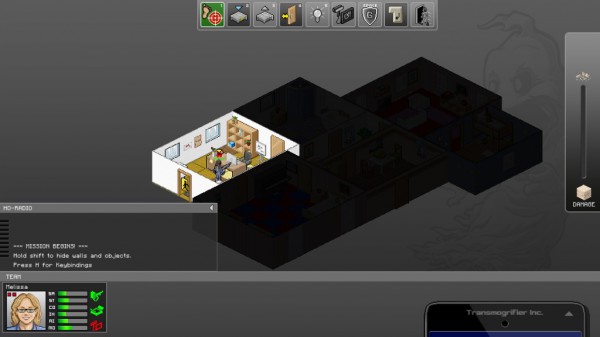 GhostControl Inc. has been inspired by Ghostbusters. You start your own ghost hunting business in the game. Hire employees, buy and sell weapons, move to larger headquarters and hunt down ghosts to satisfy clients that call you.
The ghost hunting aspect of the game is turn-based, similar to how the X-Com game series handles it. Each of your characters has a certain number of action points that can be spent on activities such as moving, shooting, opening doors or using traps to catch monsters.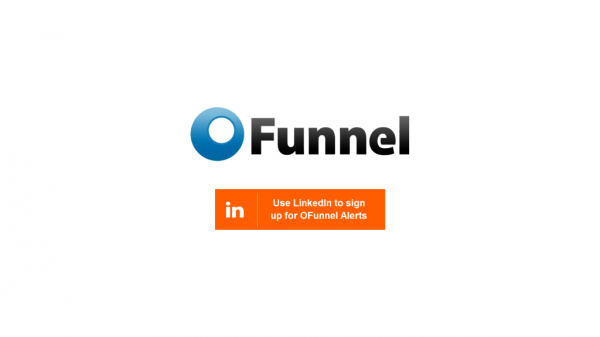 OFunnel taps right into your LinkedIn network, alerting you about things happening within your network.
The service alerts you via Live Tiles and daily emails about what is happening, so that you are always informed about the latest activities within your network.
It can be used to keep an eye on select contacts, for instance to follow their career more closely, or to monitor them as prospective new employees.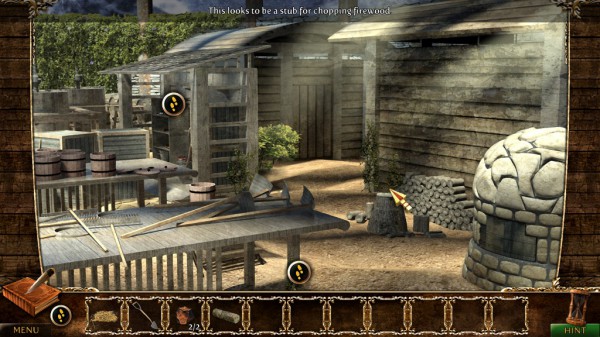 Where Angels Cry is a beautifully designed adventure game for Windows 8 in the "explore the screen" genre.
It features three different game modes, casual, adventure and challenge, and a selection of puzzles that you have to solve regularly.
The game is story-drive, which means that you are not just facing screen after screen, but have to listen to the story and missions as well so that you know why you are doing what you are doing currently.
McDroid ($14.99, free trial available)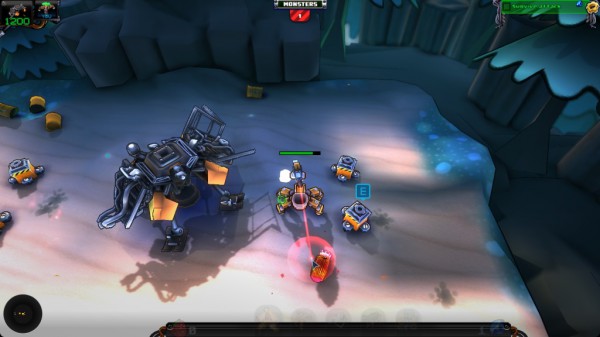 McDroid is a unique Tower Defense game, not only by design, but also by how it is played. While you can place lasers and other weapons on towers, you also control a robot that is used to repair towers, buy weapons, add or remove weapons from towers, collect resources, and use mounted weapons of its own to defend against enemy waves.
The game offers single-player and co-op modes, and a lot of scenarios and challenges that you can play through.
Since it is on the expensive side of things, it is suggested you install the trial version first to see if you like it and can justify the purchase.
Spark ($6.99, free trial available)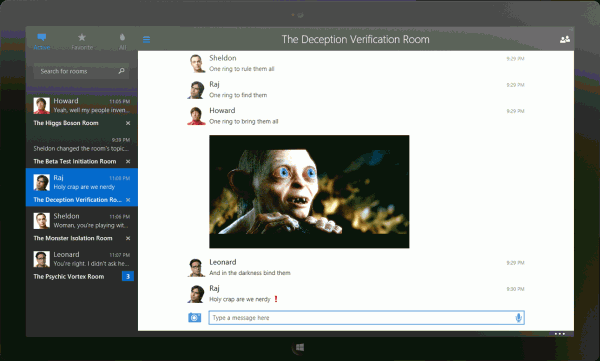 Spark is a 37Signals Campfire chat application that you can use to chat with your friends and contacts.
A 32Signals account is required to sign in to the app. Once done, you will notice that it supports quite an array of features. From inline previews of images, either direct uploads or on image hosting sites such as Imgur or Instagram, to support for multiple accounts, multi-file uploads, emoji and sound support, and voice messages, the developers have built a lot into the application.
If you are using Campfire, you may want to install the trial version to test the app before you make a purchase.