Genie Timeline 2014 adds Recycle Bin, backup history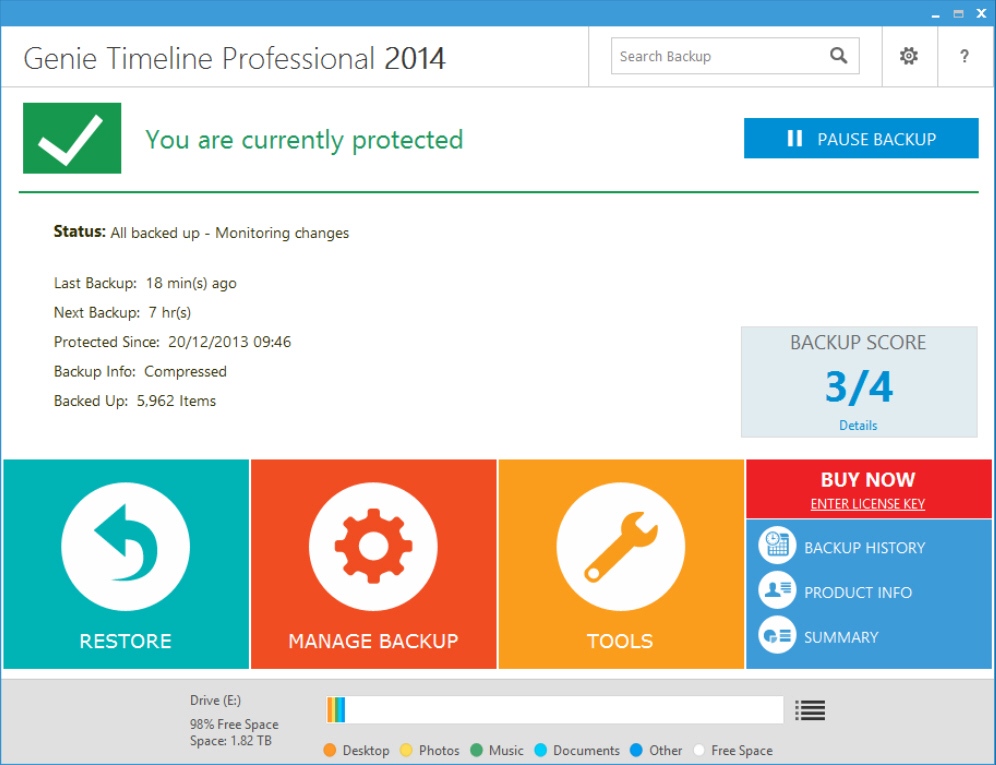 Genie Corporation has announced the availability of Genie Timeline 2014, the latest edition of its popular backup tool.
All editions now benefit from a Recycle Bin. Accidentally delete some backed-up files and they'll all appear together in the Bin, making them much easier to restore. Or, if you really need to be sure the files have gone forever, then you're able to permanently delete them with a click.
You get more control over your backups. It's possible to disable Genie Auto Purge, allowing you to keep all your backup versions. Genie Timeline Professional 2014 is able to encrypt backed-up file names for extra security, and can optionally skip following junction points.
A Backup History lists the files that were backed up during various time periods ("Today", "Yesterday", "Current Week", "Current Month", "Specific Date Range").
A Backup score is apparently intended to give "an indication of your backup health", although in our first tests it seemed more of a marketing exercise. (We were marked down because there was "no cloud backup detected", while a convenient link pointed us at Genie9′s Zoolz service.)
You can now also easily import your backup from a previous machine, making it easy to carry on where you left off. And there are improvements to the disaster recovery engine, email notifications, the interface and more.
30-day trial builds of Genie Timeline Home 2014 and Genie Timeline Professional 2014 are available now. There's also a feature-restricted Genie Timeline Free 2014 available.