Can you stand one more holiday? Amazon holds a Boxing Day sale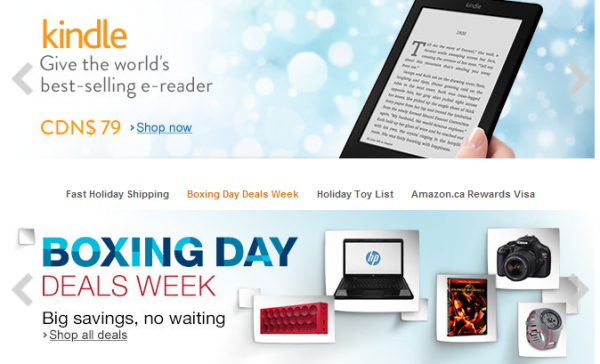 Right off the bat, I should mention that this pertains to our friends up in the Great White North. With that out of the way, online retailer Amazon has come up with yet one more way to push sales over the holiday season, a run it began before Black Friday had even dawned, and when other merchants were only planning Cyber Monday deals.
Much like the other deals, the company isn't waiting for the official day, which arrives December 26th. Instead, Amazon kicks off a week of deals, and it begins today.
"To date, the 2013 holiday season has been the biggest ever for Amazon.ca -- our customers ordered millions of items in November and December and we expect the entire week surrounding Boxing Day to be as busy", says Alexandre Gagnon, country manager for Amazon.ca.
Deals have not been completely revealed, but some highlights were unveiled. These include a Samsung 40-inch 1080p 120Hz Slim Smart LED HDTV for $599, Pentax Q10 camera for $199, an Asus i7 laptop for $1199 and half off Rosetta Stone language kits -- for those who wish to learn French, or other dialects.
Sure, this boils down to Amazon pushing sales numbers, but it's a nice thank you to the land that gifted us with Molson, Rush, and Bob and Doug McKenzie. Or, even better, Bob and Doug combining with Rush. Beauty, eh?