Create professional video slideshows with PhotoFilmStrip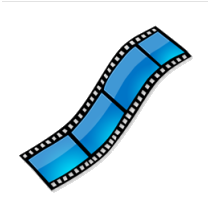 Converting your favorite photos into a video slideshow can be a great way to share them with others, and there are plenty of free tools to handle the task (Pic View EXESlide, say). But most deliver only very basic results, simply cutting from one static image to another: not exactly interesting.
PhotoFilmStrip takes this idea a little further by making smart use of the Ken Burns effect, where your slideshow smoothly pans and zooms across each image. It produces a much more engrossing and professional video, and is surprisingly easy to set up.
The program starts much like any other slideshow builder. Create a new project, add your targeted images, and they appear in a timeline. You can drag and drop photos to rearrange their order; rotate them with a click; apply a couple of basic effects and transitions, and optionally add a caption. It's all very easy.
What's more interesting, though, is PhotoFilmStrip's ability to define a motion path. Choose an image and it's displayed in two windows, each with a resizable pane. All you have to do is position the first pane to show where you'd like the motion to begin, the second to fit your end point, and PhotoFilmStrip will handle everything else.
While this seems basic at first, there's actually plenty of power here. You might have the camera pan just left to right, perhaps top to bottom, across the full image. But you can also restrict the movement to one interesting area of your photo. And the ability to resize the start and finish points means you can zoom in, or out, as necessary (begin with a tight close-up on someone's face, say, before moving out to show the full scene).
What you can't do, unfortunately, is see what this looks like right away. Instead, you have to render the complete slideshow first, and view the results. This isn't difficult, but it's still a complication, and one which seems straightforward to fix: just provide a "Preview" button which renders and plays the current slide only. Maybe next time.
Once you understand the basics, however, PhotoFilmStrip works very well. It's easy to set up, the camera motion is smooth and realistic, and you can customise your slideshow with captions and a soundtrack. And once you've finished, you're able to render the slideshow in a range of sizes (anything from VCD to Full HD) and formats (MP4, MPEG-2, FLV, AVI, even single photos).
You still don't have quite the options you'll see in the most powerful of the competition. You don't get a stack of device profiles, for instance; you can't just click "iPad" to produce a slideshow formatted for that device. And the program won't directly upload your video to YouTube or Facebook (or anywhere else, actually).
PhotoFilmStrip still performs very well for a small open-source project, though, and there's more than enough here to help you deliver a polished and professional slideshow. Give it a try.