HP puts Android on the business desktop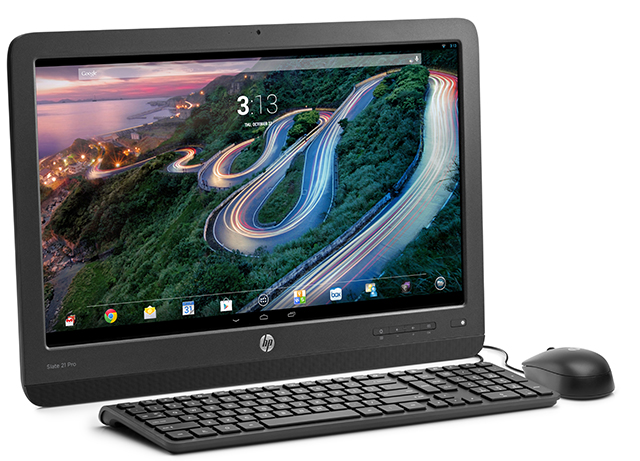 All-in-one PCs are popular in the office and in customer-facing environments because they're stylish and take up less space than conventional models.
HP has been an active player in this field for a while and has now updated its range of all-in-one (AiO) models with four new systems including -- for the first time -- one that runs Android.
The Slate 21 Pro AiO provides a desktop that integrates seamlessly with Android phones and tablets using autosyncing and Google Cloud Services. It features a 21.5-inch touchscreen, a Tegra 4 quad-core CPU, dual-band wireless, Bluetooth and an integrated HD webcam. It runs Android 4.3 and uses Citrix Receiver to offer Windows application support. It also allows users to toggle between the Android environment and content displayed from a Windows PC.
The Slate 21 Pro satisfies the demands of enterprise security by having Citrix XenMobile pre-installed to allow administrators to manage apps and users within the corporate environment. It's available now in the US with a starting price of $399 including a keyboard and mouse.
"HP's multi-OS approach showcases our innovation and allows us to deliver the right product for our customers' needs, giving them all the flexibility and ease of use they need from a business PC," says Enrique Lores, HP's senior vice president and general manager, Commercial PCs. "The HP AiO PCs announced today highlight how businesses of any size can increase employee productivity by leveraging the growing Android ecosystem, all while being budget friendly".
HP's announcement also includes three new Windows-based systems. The 205 AiO is aimed at smaller businesses, with an 18.5-inch screen, AMD E-Series dual-core processor, built-in Wi-Fi and webcam. Prices start from $449.
The HP ProOne 400 AiO G1 comes in 19.5-inch non-touch or 21.5-inch touchscreen versions. HP says that this model is designed to offer a rich video and audio conferencing experience, with integrated Skype-ready webcam, business class speakers and integrated DTS Sound+ audio software. It also features a Display Port to drive an external monitor and an integrated Wi-Fi hotspot to allow people to connect smartphones and tablets. Running the latest Intel Core processors, the non-touch ProOne starts at $649 with the touch version available from $799.
Finally the Z1 G2 is a second-generation model of HP's 27-inch AiO workstation, using Intel Thunderbolt 2 technology for fast performance and touchscreen capability. No prices for this model were available at launch though you can expect it to start around the $2500 mark of the Z1.