Nvidia announces its new mobile Tegra K1 'super chip'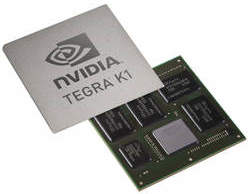 As in previous years, most of the fun associated with CES actually happens before the famous trade show officially starts. Major tech companies rush to announce their new products ahead of the big opening day (January 7, for CES 2014) in an attempt to steal the show, like Lenovo just did with its Windows 8.1-based ThinkPad Tablet 8. For those who are not already there, CES could likely be over before it kicks off.
Nvidia is also part of the pre-CES announcements, as the US company has already announced a new mobile processor, called Tegra K1. The new chip is based on the Kepler architecture, that is used in the GeForce GTX 790Ti video card. "For the first time, next-generation PC gaming will now be available on mobile platforms", says Nvidia.
"Over the past two decades, NVIDIA invented the GPU and has developed more graphics technologies than any other company", says Nvidia CEO and co-founder Jen-Hsun Huang. "With Tegra K1, we're bringing that heritage to mobile. It bridges the gap for developers, who can now build next-gen games and apps that will run on any device".
The Tegra K1 is "a 192-core super chip" that will be made available, later this year, in two "pin-to-pin compatible versions". One features a 2.3 GHz quad-core 32-bit CPU (technically, a 4+1 design as there's also a fifth core for non-resource-intensive use) that is based on the ARM Cortex A15 architecture (currently also used by other makers like Qualcomm). And, the other sports a dual-core (or, dual Super Core as Nvidia calls it) 64-bit CPU that is based on the new ARMv8 architecture, that Apple also used to create its A7 chip that powers the latest iPads and the iPhone 5s.
Both models of the Tegra K1 have the 192-core Kepler GPU inside (the 32-bit version should be available in the first half of the year, while the 64-bit version will hit the shelves inside new devices afterwards). Nvidia says the GPU is 1.5 times "more efficient" than its competitors and offers support for DirectX 11, OpenGL 4.4 and tessellation. In turn, this allows the chip to run games based on Unreal Engine 4.
"With the introduction of this revolutionary processor, we can take applications that run on PC or console and run it on Tegra", says Epic Games founder and Unreal Engine developer Tim Sweeney. "From here onward, I think we're going to see the performance and feature gap between mobile and PC high-end gaming continue to narrow to the point where the difference between the platforms really blurs".
The processor also supports up to 8 GB of RAM, with the 40-bit address extension, CUDA, 4K panels (a maximum resolution of 4096 by 2160) via HDMI, and LCD displays with a maximum resolution of 3840 by 2160.
As far as performance goes, Nvidia says the Tegra K1 is faster than what powers the Xbox 360 and PlayStation 3, and on the same graphics features level as the Xbox One and PlayStation 4.
The Tegra K1 will also be used in cars for advanced driver assistance systems, like blind-spot monitoring, lane-departure warning, street sign recognition, pedestrian detection, and monitoring driver alertness. The automotive-grade version of the processor is designed to work in extreme conditions, and will be used by car makers, like Audi.
"Audi and NVIDIA have a long, deep partnership, in which we've utilized three generations of Tegra to bring industry-leading capabilities to the instrument cluster, infotainment and rear seat entertainment systems", says Audi electrics/electronics chief executive engineer Ricky Hudi. "Tegra K1 opens a new chapter for Audi to deliver revolutionary supercomputing advances to the car, paving the way to piloted driving experiences". It will be demoed at CES.