Samsung Galaxy Pro tablets are 12.2-inches of fondle-friendly productivity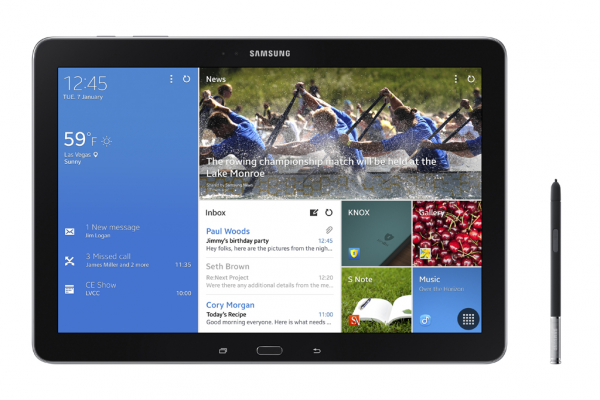 When it comes to tablets (and other things), size matters. After all, a tablet, like other computers, is a tool. If you go to Sears for a screwdriver, you will find tiny ones for eyeglasses and enormous ones for automotive and lord knows what. In other words, you buy the tool that meets your needs. Much the way that different-sized screwdrivers have different purposes, so do tablets.
For instance, if you want to create content, a larger tablet like an iPad Air or Surface 2 would be ideal. Conversely, if you only want to consume media, maybe you can get by with a Nexus 7. But what if you need your tablet for serious business? Like, multiple-windows-open-simultaneously type business? The bigger the better then, right? Well, Samsung announces that it wants to meet the unmet needs of these users, with the Samsung Galaxy NotePRO and TabPRO -- 12.2 inches of fondle-friendly productivity.
"We created the Galaxy NotePRO and TabPRO series to kick-off a year in which Samsung truly establishes its leadership in the tablet market. This new line offers the best-in-class content consumption and productivity, combining a stunning viewing experience with Samsung's design legacy. The Samsung Galaxy NotePRO and TabPRO truly demonstrate our commitment to providing our customers with extraordinarily versatile product offerings, tailored to tablet users of every description", says JK Shin, CEO and President of IT and Mobile Division, Samsung Electronics.
Samsung explains that the "Galaxy NotePRO and TabPRO present the world's first 12.2-inch WQXGA Widescreen (16:10) display, offering crystal clear resolution (2560x1600) with more than 4 million pixels, making it an ideal platform for every type of content creation and consumption. With a larger viewing area, the defined screen allows users to enjoy stunning Full HD video play and view even more information at a glance. In addition to the industry-leading display, the devices have been designed with a sleek, light, slim frame that is both premium and highly portable".
Galaxy NotePRO and Galaxy TabPRO (12.2-inch) Notable Specs:
Processor -- WiFi and 3G: Exynos 5 Octa (1.9 GHz QuadCore + 1.3 GHz Quadcore)  LTE : Snapdragon 800 2.3GHz Quad
Display -- 12.2-inch WQXGA (2560 X 1600) Super clear LCD
OS -- Android 4.4 (KitKat)
RAM -- 3GB
Storage -- 32/64GB Internal Memory and microSD slot (Up to 64GB supported)
To the delight of many and the disappointment of others, the company has ditched its Touchwiz user interface for these devices. While I personally like Touchwiz, many in the Android community lambaste it for deviating from the stock UI. Well, those critics may remain unhappy as the new UI deviates even further. Samsung has delivered a new "Magazine UX" that utilizes the large screen with a magazine-like interface that delivers a clean look. While it is a startling change, I must confess that it is drop-dead gorgeous.
Most impressive though is that four windows can be displayed on the screen at once. This makes both tablets ideal for business and power users alike. However, the NotePRO also utilizes an S Pen stylus that the TabPro doesn't. This is the differentiation between the two. If you do not need a stylus, you can likely save your money by opting for the Tab.
Sadly, availability has been set for a very non-committal "Q1, 2014" and the prices are not yet released. Hopefully more details will be released soon, so users can know how much money they need to start saving. Would you buy such a massive tablet? Tell me in the comments.