Turn your iPhone or iPad into a fully functional scanner with Scanner Pro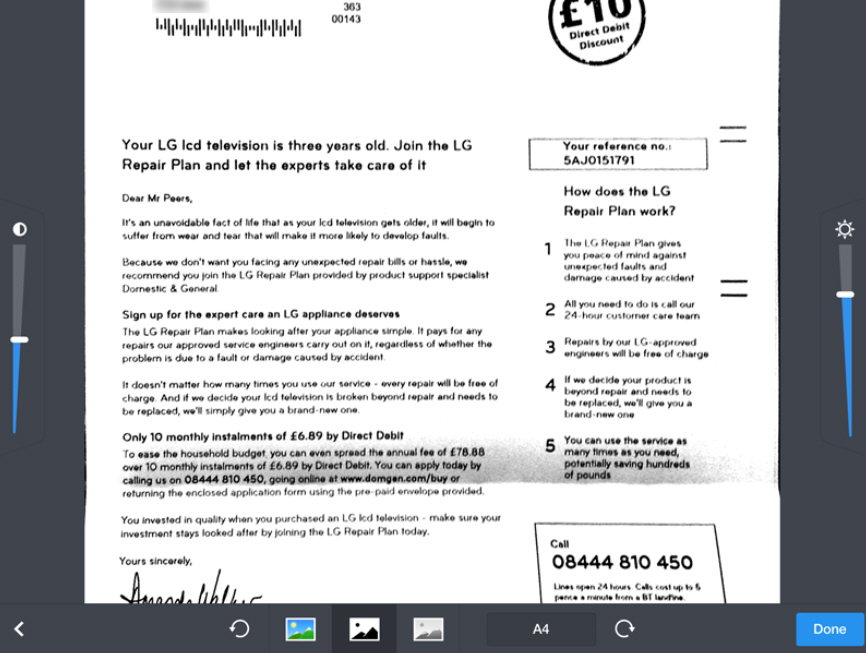 It's not enough that the iPhone and iPad have designs on replacing your computer, they've one eye on rendering your scanner obsolete too. Thanks to apps like Scanner Pro, which is free on the App Store until the end of this week (January 9), you can transform your iOS device into a fully functioning mobile scanner.
Scanner Pro makes it easy to not just turn your iPad or iPhone's rear camera into a portable scanning tool, it also provides tools for optimizing the results, helping you create good quality  digital documents quickly and with the minimum of fuss.
The app is relatively simple to use, but does rely on a good light source and steady hand for best results, although it can produce impressive results even when the initial photo isn't perfect. As you frame your snap, a grid helps you try to keep the document as square as possible, while Scanner Pro automatically attempts to select the portion of the photo it thinks you'll want to keep. Take your photo and wait while it's processed.
If you're lucky, Scanner Pro will deliver a black and white scan of your document that's ready to sync, upload or share. But you can reframe the photo manually if you wish -- tap < to do so -- plus choose to make it color or gray-scale, plus tweak brightness and contrast settings if necessary.
Most of these tweaks shouldn't be necessary: the app uses algorithms to correct perspective where the document hasn't been shot square on, improve sharpness and remove unwanted shadows.
Once the scan is done to your liking you can add more pages if required, then give your digital document a suitable name before saving it to the Scanner Pro library. One disappointing omission is the option to rearrange the pages in your document; another is the lack of any OCR support for generating editable text from your scans.
When you've opened a document for viewing or editing, you'll also gain options for uploading it to a variety of locations, including Evernote, Google, Dropbox and WebDAV-compatible storage. You can also email it, save the selected page as a JPEG image to your photo library or open it in another app as a JPEG or PDF.
The app can also be used as a fax machine, although you'll have to pay extra for this functionality. There's also an option for password-protecting your documents too.
It all adds up to a handy tool for taking with you on the move -- aside from the obvious business uses, family historians will find Scanner Pro useful for snapping old family photos and documents too.
Scanner Pro is available now for iPhone, iPad and iPod touch running iOS 6.0 or later. The app normally costs $6.99, but is currently available for nothing on the App Store -- hurry, though, as this offer ends on January 9.