Panasonic shows off Toughpad FZ-M1, a 7-inch Windows 8.1 tablet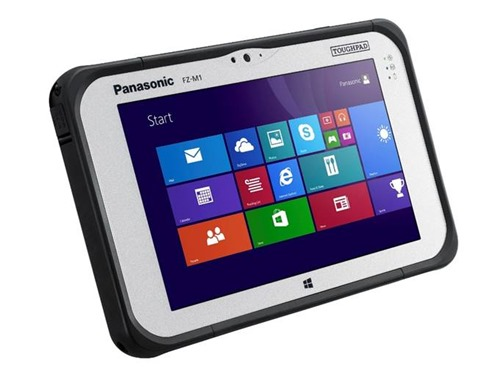 We're seeing lots of tablets unveiled at CES 2014, with both Android and Windows 8.1 getting plenty of attention. There has been a dizzying amount of interesting devices, but perhaps Panasonic takes the prize for design with its offering.
The company, known for its rugged laptops, unveiled the Toughpad FZ-M1. The seven-inch tablet runs Windows 8.1 and sports a unique look, thanks to its ability to stand up to the rigors of a job site, bragging that it can easily survive a fall from five feet.
"Most tablets on the market today are designed to be 'good enough' to meet most users' needs. But 'good enough' won't cut it for a large portion of the mobile workforce, who need tools they can depend on in challenging conditions to get the job done without compromise", says Rance Poehler, president of Panasonic System Communications Company of North America.
As for actual specs, here's what we know. There's an Intel Core i5 processor, Windows 8.1 Pro 64-bit, 1280 x 800 WXGA display, 128 GB SSD (256 GB upgrade available), 802.11 a/b/g/n/ac, 720p front camera, 5 MP rear camera and 8 hours of battery life.
The Toughpad will be available in early spring of this year, retailing for $2,099. A Celeron version will be released this summer, though that price was not given, nor was one listed for the 256 GB upgrade.