Sony VAIO goes flipping smaller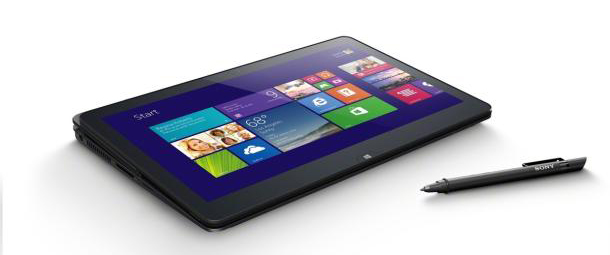 Sony's VAIO | Flip range of convertible laptop/tablet hybrids launched back in October last year. This week the company uses CES to release a new, smaller 11-inch model for users who want maximum portability.
The Flip uses a clever three-way design which means it can be used as a laptop, a tablet or in 'Viewer Mode' which basically props the screen up on a stand that's built into the chassis.
The VAIO Fit 11A weighs only 2.82 pounds, has a solid state drive, quad-core Intel Pentium CPU and an 8MP rear-facing camera. It also features Sony's Triluminos display technology along with ClearAudio+ to provide what Sony says will be a top of the line movie viewing experience.
It also comes equipped with the pressure-sensitive VAIO Active Pen allowing you to take notes or doodle on the screen. If you'd rather type the keyboard is backlit -- a feature not often seen on smaller systems -- so you can use it in the dark. The aluminum chassis comes in a choice of silver, black or pink and the VAIO Fit 11A will be available from the end of February with a starting price of $799.
The rest of the VAIO | Flip lineup gets updated for spring too, with Windows 8.1 and all models now coming with Adobe Photoshop Elements 12 pre-installed. Visit Sony's website for more news.