Run Windows 8 or 8.1 directly from a USB drive on any computer -- for free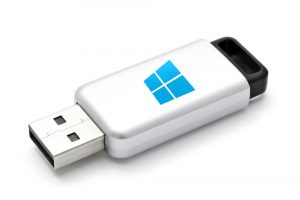 The Enterprise edition of Windows 8.x has a feature called Windows To Go that lets you create a working version of Microsoft's tiled operating system on a USB memory stick. You can boot into this and be instantly up and running in the new OS from any computer. Which is great -- provided you have the Enterprise edition of the OS and a "certified" USB drive. If you only have the standard version of Windows 8.x then the option isn't available to you.
But there is a very easy way you can build a personalized and bootable copy of Windows 8 or 8.1 on a USB drive, for use anywhere. All you need is a USB 3.0 device with at least 13GB capacity (it will run on a USB 2.0 memory stick, but slowly), a copy of Windows 8.x (either an installation disc or an ISO -- you can get the Windows 8.1 ISO by following these instructions but you will need a Windows 8.1 key), and a free partitioning program. Here's what you need to do.
Firstly download AOMEI Partition Assistant Standard Edition (formerly Home Edition). If you have a Windows 8 or 8.1 installation disc insert it into your DVD drive. If you have an ISO file mount it as a virtual drive using a tool like ImDisk (or similar) or you can burn it to disc -- the choice is yours. The program can't create the bootable USB operating system from an unmounted image unfortunately.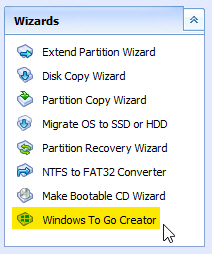 Plug the USB drive into your PC. Run AOMEI Partition Assistant and click the Windows To Go Creator link on the left hand side.
Make sure the correct USB drive is selected (any content on the drive will be wiped during the creation process so this is a vital step), and click Browse. Partition Assistant should identify the Windows 8 installation file it needs (named install.wim) but you can browse for the file manually if it doesn't for some reason. You'll find it in the \sources folder.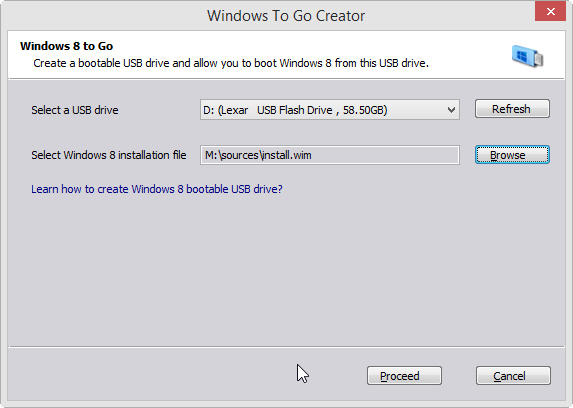 Click Proceed. The creation process will start. Remember, any existing data on the drive will be overwritten so make sure you've backed it up. Depending on the type (and quality) of the USB drive, you might be waiting for a couple of hours or even longer for everything to complete so just leave it to get on with things.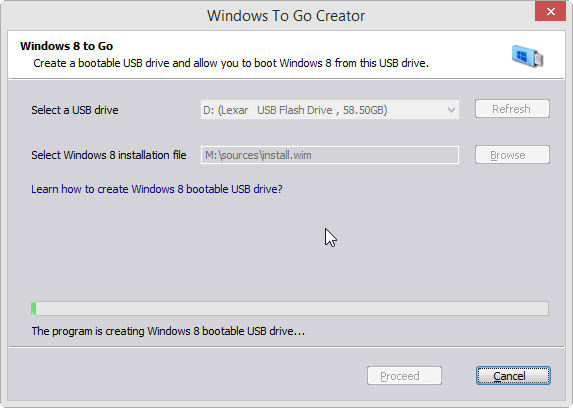 When the task is completed, you can boot into the OS from any computer. The first time you run it you'll be prompted to enter your Windows key and will then need to set up Windows as you would any new installation.
Although it will work like any Windows install, the portable version has some restrictions -- Windows Store isn't available in Windows to Go workspaces, for example.
Photo Credit: Ingvar Bjork/Shutterstock