AMI StorTrends 3500i offers high performance storage for smaller enterprises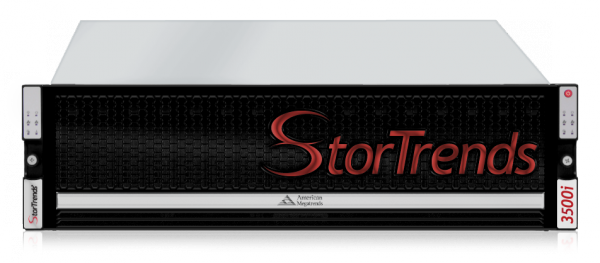 Most PC users probably know American Megatrends Inc (AMI) for its BIOS, but the company is also a major player in the storage market.
Its latest release, the StorTrends 3500i, is aimed at smaller and medium businesses. It uses a hybrid of SSD and conventional drives to deliver performance with lower capital expenditure than other solutions.
The 3500i has SSD caching and tiering combined with conventional hard drive storage to deliver up to 56TB of storage within a 3U rack format and expansion capacity of up to 256TB. Automated tiering means that important data is promoted to SSDs for faster access whilst demoting less frequently used information to conventional storage.
By using SSDs for caching and tiering the data the unit delivers greater SSD endurance, reducing the number of cycles on each storage cell. Lower latency is a key feature too, sub-3ms for the hybrid version compared to 10ms for conventional storage.
Flash storage can be upgraded on the fly, avoiding the need to swap out the entire unit. The 3500i can be upgraded to a full flash solution if required reducing latency still further to just 1ms.
System management is simplified too thanks to a web-based console which makes it easy to manage storage and virtual machines. Customers can get an overview of the system's capacity, health and resource management.
AMI also offers an iData tool to help specify systems to customer requirements by analyzing the capacity and performance of existing storage over a number of days.
"Enterprises are demanding higher performance and availability to serve resource intensive applications such as virtual desktop infrastructure and heavy-transaction databases, and traditional disk arrays simply cannot meet the demand," says Justin Bagby, Director of StorTrends Division at American Megatrends. "That is why we have taken our years of RAID expertise and more than 100 technology patents to build the next generation of storage solutions. The StorTrends 3500i SSD Array is the culmination of our innovation strategy which truly harnesses the power and performance of SSD to revolutionize storage performance, agility and savings".
More information and pricing is available on the StorTrends website.