Bing and Fox News join forces for State of the Union polling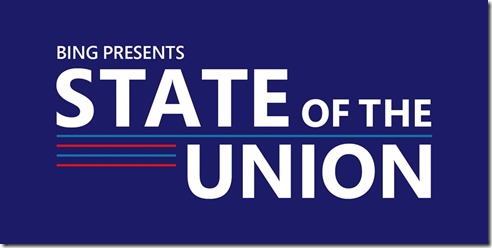 When it comes to news, I no longer bother with the television. Nowadays, I just visit the web for my daily fix of news stories. However, while some of the cable news companies such as CNN and MSNBC may do poorly in the ratings, Fox News actually does rather well and is typically number one. In other words, people are watching.
When it comes to search engines, Microsoft's Bing is a distant second to Google, but second nonetheless. With that said, the second rated search engine is teaming up with the top rated cable news company for real-time State of the Union polling.
"On Tuesday, January 28 at 6 pm PT, people in the US will be able to track and share their opinions of the State of the Union address in real-time via smartphones, PCs or Tablets. Bing.com and FOX News are teaming up again on the Bing Pulse online voting tool for the State of the Union address. Bing Pulse allows people to share their opinion of the State of the Union by 'voting' every five seconds on their reactions to the content of the speech", says the Bing Team.
Mark Penn, executive vice president of Advertising and Strategy at Microsoft explains, "we deployed the Bing Pulse for the 2013 State of the Union because we thought it was the perfect tool to give people an opportunity to react in real time to the address. Over the course of 59 minutes, we conducted the largest live online poll in history with 12.9 million votes registered. That response showed how much people want to make their voices heard during significant political moments. This year, we're adding more features and are covering the Republican response as well".
Regardless of which side of the aisle you support, you must admit that giving the people an outlet to voice their opinions in real-time is not only empowering, but pretty darn cool too. If you want to participate, check out the details here.