Logitech ConferenceCam CC3000e -- inexpensive enterprise video conferencing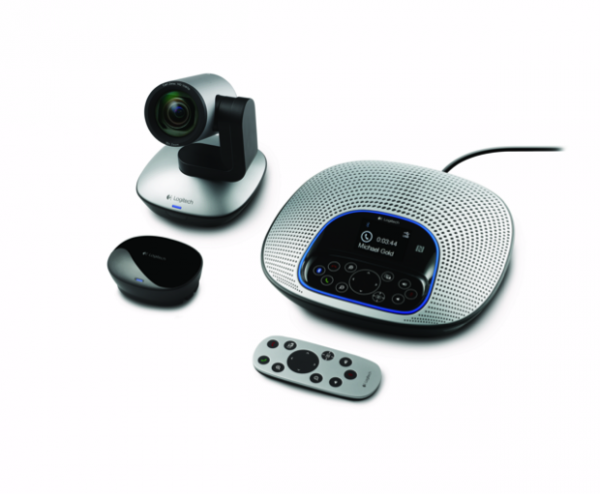 In my travels, I have discovered an unfortunate trend -- many businesses don't utilize video conferencing for remote communication. In other words, many are still relying on a voice-only approach. While this is functional, it is not optimal. After all, body language speaks volumes and you cannot see boredom or excitement through a phone.
According to Logitech, an alarming 95 percent of conference rooms lack video-conferencing. It is the year 2014, surely video conferences should be the norm by now, right? Logitech is looking to remedy this trend with the ConferenceCam CC3000e. Is the device up to the task?
"Video conferencing is simply too complex to use today and too expensive to deploy. A surprising 95 percent of conference rooms worldwide lack a video conferencing solution, but Logitech is changing that with its latest offering", says Eric Kintz, Logitech.
Kintz further explains, "This powerful solution can turn any small or midsize conference room into a video collaboration room. And it's affordable. At just under $1,000, its price tag dwarfs the cost of systems you'd find in most conference rooms".
While home users may scoff at $1,000 being affordable, business users know this is a great value. Typically, setups like this can cost many times more.
Logitech touts the following benefits:
Optimized for workgroups of six to 10 people.
A 90-degree field of view with 10x lossless zoom, a Carl Zeiss-certified glass lens and remote-controlled 260-degree pan to make close-ups and whiteboard details crystal clear.
Noise and echo cancellation as well as omni-directional stereo or mono sound with a 20-foot diameter range to deliver superior sound.
A Kensington Security slot to help deter theft.
The ability to work with your favorite video collaboration platforms -- Microsoft Lync, Cisco Jabber and WebEx compatible, Skype certified and integrated with Vidyo.
Easy connection to a Mac, PC, tablet or smartphone -- using USB for Mac and PCs, and Bluetooth or Near Field Communication (NFC) connectivity for smartphone or tablet audio streaming.
Not only is the device affordable and functional, but it is downright sexy too. While many companies would fail to incorporate beauty and sexiness into an enterprise-level device, Logitech smartly realizes the value in aesthetics in an office.
Business users, what do you think, will you buy it? Tell me in the comments.