BlackBerry 10.2.1 update rolling out now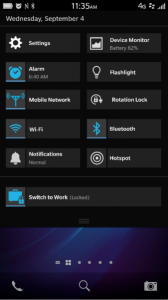 BlackBerry's new smartphone lineup may not be as popular as the Canadian maker would have wanted it to be, with sales of the latest models unable to top those of legacy devices. Despite the poor performance, BlackBerry is not giving up (not yet anyway) as it is frequently launching updates for the BB 10 operating system, with a new version announced today.
BlackBerry 10 OS version 10.2.1 starts to roll out across the globe, with users from US, Europe, Canada, the Middle East, Africa, the Asia Pacific region and Latin America set to receive the latest update, starting today, on their devices. There is no word on which BlackBerry 10 OS smartphone will get the new software version first, nor whether the first stage includes mobile operator-branded models. Now let us take a look at the (major) changes.
The BlackBerry Hub gets an option for filtering the message list, to show just unread, flagged or draft messages, meeting invites or level 1 alerts. Users can take advantage of the pinch gesture to activate it.
There is a new screen for incoming calls that allows users to swipe left or right to answer or reject a call, respectively. There are options to send a message -- standard or custom -- through BBM, email or SMS after dismissing a call, and for silencing the call.
The Quick Settings menu also gets new features, as it can now be customized to include just the toggles that users want to see. It also comes with new toggles for tweaking the brightness, connectivity options, powering up the rear camera's LED flash and switching between work and personal content.
Other features include email and SMS groups, actionable lockscreen notifications, unlocking with a picture password, offline viewing of saved web pages, preferential contact source syncing, battery and device monitor, FM Radio (works only on the BlackBerry Q10, Q5 and Z30), automatic operating system updates and new enterprise-oriented features (for beefed up security and extra IT policies).
To learn how to update your compatible smartphone to Blackberry 10.2.1 visit this page.