Have your Chrome browser settings been hijacked? Google offers a temporary fix but no solution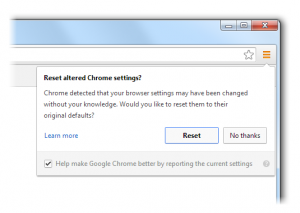 When Google Chrome first came on the scene, it did not support plugins like Firefox. It was not until later that extensions were introduced. Recently, it was discovered that rogue extensions are capable of compromising the security of the web browser. While not all extensions are malicious, it does call into question the feasibility of an open extension market.
Sadly, that is not the only negative aspect of Google's browser. In addition, the settings can be hijacked by malicious software. Fear not though, according to a new blog post, Google is here to help.
"So, you're trying to download a free screensaver or game or something else you really want. But later you find out that game came bundled with a malicious program that's trying to hijack your browser settings. You're not the only one having this problem -- in fact, it's an issue that's continuing to grow at an alarming rate. You should always be in charge of your own Chrome settings. To help keep your browser settings under your control we added a 'reset browser settings' button to Chrome's settings page in October", says Linus Upson, Vice President of Engineering at Google.
Upson further says, "despite this, settings hijacking remains our number one user complaint. To make sure the reset option reaches everyone who might need it, Chrome will be prompting Windows users whose settings appear to have been changed if they'd like to restore their browser settings back to factory default. If you've been affected by settings hijacking and would like to restore your settings, just click 'Reset' on the prompt".
In other words, malware can alter the settings of Google Chrome on Microsoft's Windows operating system. Google Chrome has the ability detect these changes and offer to reset the settings for the user. If the user chooses to reset, they will have to re-enable all of their extensions one by one -- a bit of a chore. Google warns that this may not always work as some malware is particularly nasty and users may quickly become affected again. In this case, users are instead directed to the search-giant's help forums.
While that is appreciated, it doesn't truly solve the problem. Why are the browser's settings so susceptible to outside interference? Instead of focusing on a cat and mouse game of resetting altered settings, the company should instead make the browser settings secure.
Do you use Google Chrome? Do you still feel that it is safe and secure? Tell me in the comments.
Photo Credit: grafvision/Shutterstock