Forget Spotify -- discover never-before-heard music on Forgotify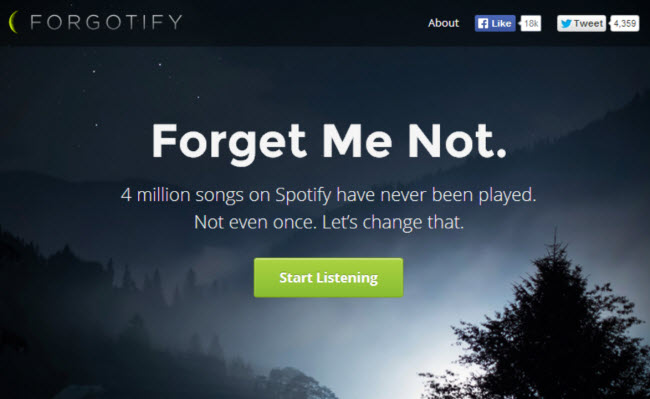 Like the internet itself, Spotify is a fantastic resource, but it is one which remains somewhat unexplored. There are darker reaches that are yet to be visited by anyone, and who knows what sort of gems might be lurking there waiting to be discovered? You could spend endless hours trawling the length and breadth of what's available online in the hope of stumbling across something new and exciting. You could do that, or you could get someone else to do the hard work for you.
With Forgotify, the idea is simple. It's a streaming music site, but not quite like the others you may have tried. Any music you find through Forgotify is guaranteed not to have been listened to by anyone else on Spotify. Spend a little time playing random tracks and you could find something truly amazing -- of course, you will undoubtedly have to endure a load of absolute drivel, but there will be some utterly delightful tracks in every genre as well.
Getting started could hardly be easier. Just head over to the site and click the Start Listening button -- you will need to log into your Spotify account to hear anything. You can share the tracks you like (or want to publicly ridicule!) or just skip to the next track whenever you're ready. On about my tenth listen, Carroll Baker's "Wichita" from the album "I'd Go Through It All Again" -- sadly nothing to do with Glen Campbell's "Wichita Lineman" -- started, and a few clicks later I was listening to "Termite One One" by Lol Coxhill.
Set aside a little time for this site as it quickly becomes addictive. Gems I found include Louise Huebner's "The Self Fascination Ritual For Increased Power" from the album "Louise Huebner's Seduction Through Witchcraft". She is, in case you are unaware of her, the only "officially appointed official witch in the entire cosmos". That's the sort of stuff you can expect to enjoy!
Give it a try and let us know if you come across anything weird, wonderful or brilliant!