Microsoft empowers people in new Super Bowl commercial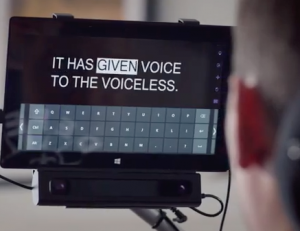 Super Bowl Sunday is a big day for Americans. While baseball may be the national pastime, football has captured the hearts and minds of many people with fantasy leagues and tailgating. Yes, for many, football is not about watching the actual game, but instead eating food, partying and watching commercials.
While it seems most Super Bowl commercials are about comedy, sometimes they tug at the heartstrings too. Last year, I damn-near cried when Budweiser showed a friendship between a man and a horse. This year, in an early unveiling, Microsoft has me both inspired and teary-eyed with its new Super Bowl commercial, simply titled "Empowering".
When new technology comes out, we tend to take it for granted -- iPhone, Android, Windows Phone are all amazing devices. The fanboy arguments are just plain silly. Let us not forget that we are not far removed from a world without personal computers -- a world without technological help. Google helps us search for knowledge, Microsoft Office helps us create and smartphones help us stay in touch. However, while that help is appreciated, there are people whose lives aren't just enhanced by technology -- they are empowered by it.
Microsoft's commercial focuses on people with disabilities. There are people who are deaf, blind, missing limbs and more. The ad shows that computers and technology can allow people to overcome their disabilities. Sometimes we can get lost in the nonsense -- Instagram, Candy Crush Saga and yes, even the Super Bowl. These distractions can make us forget what is truly important -- quality of life.
The entire commercial is narrated by Former NFL player Steve Gleason. Sadly, he cannot speak on his own due to ALS, otherwise known as Lou Gherig's disease. Microsoft's technologies allow him to communicate using a Surface tablet and a Kinect camera. The camera tracks his eye movements and gives him an outlet to speak. This is not only empowering, it is inspiring.
Overall, Microsoft's Super Bowl ad runs for about a minute. This one minute returned me to sanity and made me take a moment to be thankful for what I have -- not what I don't. Sure, I'm not the handsomest man, nor the smartest, but I can hear, I can walk and I can see; I am grateful. Thank you Microsoft.
How has technology improved your quality of life? Tell me in the comments below.