Google unveils new holiday calendars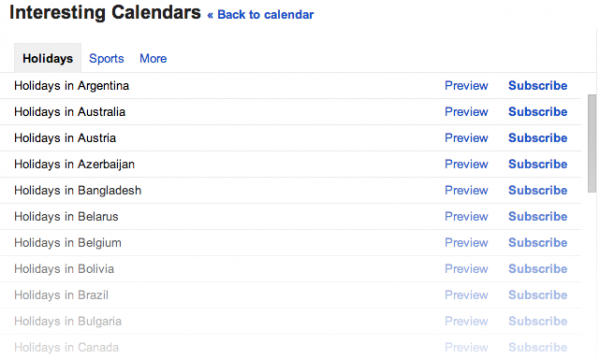 When I was a young man, there were only a handful of holidays that we celebrated. They were based on your faith, your country or to celebrate an exemplary figure like Dr. Martin Luther King Jr. However, the internet has made it so that every day can be a holiday, as anyone can proclaim it to be so. Quite frankly, it is a bit silly to celebrate something like "Talk Like a Pirate Day", but apparently people like to do it. According to www.daysoftheyear.com, today is Carrot Cake Day. I love carrot cake, but come on now...
Google apparently wants to get in on the fun, but with real holidays -- based on national holidays from around the world. Yes, Google announces it is expanding the available holidays for Gmail users.
"Interested in celebrating Carnival with your cousin in Argentina, or not sure when your friend in Zurich is off for the Swiss National Day holiday? You can now choose from 30 additional country holiday calendars in Google Calendar to help keep track of special occasions in different countries so there will be even more to celebrate", says Ronnie Falcon, Associate Product Manager Intern.
Falcon further explains, "the calendars, which will be rolled out over the next few days, also contain a wider variety of holidays and display dates for holidays further into the future, so you can have enough time to book a flight to Buenos Aires to join your cousin for the water games, or ask your friend to send you a dozen August-Weggen".
In other words, Google is making it possible for Gmail users to celebrate national holidays from additional countries. Hopefully, this means we will see less people celebrating nonsense, like Elmo from Sesame Street's birthday -- which is today. Happy birthday you creepy red puppet!
Image Credit: Korn/Shutterstock