Firefox 27 extends SocialAPI, now handles multiple providers simultaneously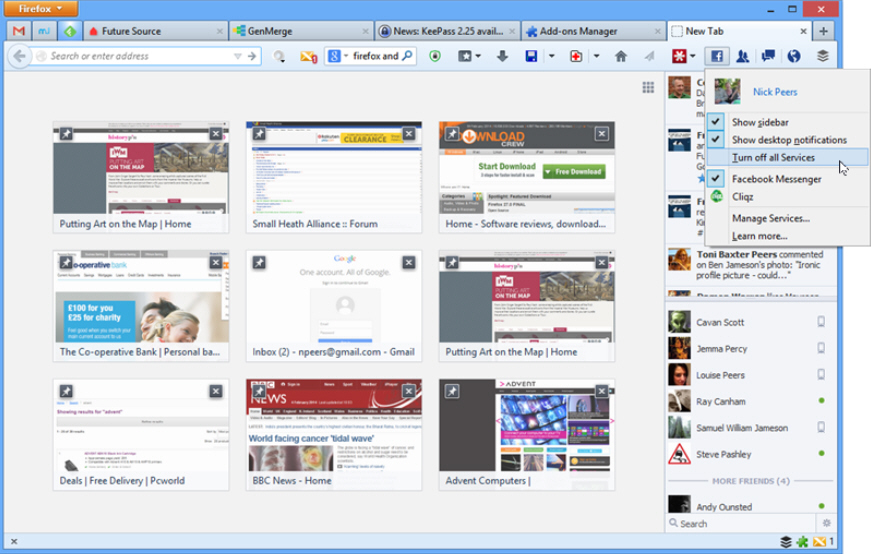 Mozilla has released the latest version of its open-source, cross-platform web browser with the launch of Firefox 27 FINAL for Windows, Mac and Linux, with Firefox for Android 27.0 due to follow.
There's only one major new feature of note in this latest release -- the SocialAPI, which allows providers to provide social networking updates directly from within the browser, can now handle multiple providers simultaneously.
The Social API, introduced in Firefox 20, allows users to access various social networking providers directly from the browser without the need for an additional plug-in. Services include Facebook Messenger and cliqz.
Since its introduction, the SocialAPI has been hindered by the fact users can only activate one provider at a time, switching between them using the controls on the Firefox toolbar. Firefox 27 updates the SocialAPI to allow multiple services to be run at the same time, making it possible to receive notifications, chat messages and more from all installed services, even if they're not currently selected in the toolbar.
Android users will gain a few new languages to version 27 when it's released, including Lithuanian, Slovenian, South African English and Thai. Also promised are UI improvements through a rewrite of the favicon system, removed overscrolling on web content and the promise of better readability through changing the default font to Clear Sans.
Cross-Platform Changes
Firefox 27 on both desktop and mobile gain support for the TLS 1.1 and TLS 1.2 protocols by default in this release; desktop users also gain support for Chromium's SPDY 3.1 protocol, which is designed to reduce page loading times.
Developers gain the most from this new release, gaining the ability to reset stylesheets using the all:unset command as well as being able to now deobfuscate JavaScript in the debugger. They can now also implement the allow-popups directive for use in iframe sandbox, helping to increase security, while the SpiderMonkey JavaScript engine gains support for ES6 generators and iteration.
The update also adds dashed line support on Canvas, while Linux users finally get Azure/Skia content rendering correctly.
Users are warned about a number of unresolved issues in the desktop build. Chief among these is that Firefox will freeze if -- while playing a Flash video in full-screen mode -- users shift Firefox to the background and then attempt to bring it back into focus.
Firefox 27.0 FINAL is available now as a free, open-source download for Windows, Mac and Linux. Firefox for Android 27.0 should be available shortly thereafter.