Evernote for Mac adds descriptive search feature, aims to make finding information quicker and easier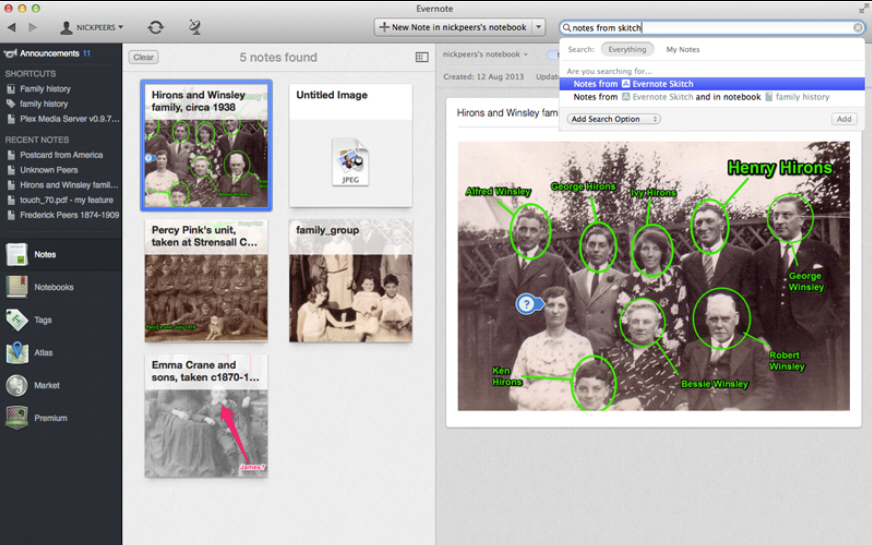 Evernote Corporation has released Evernote for Mac 5.5, a minor refresh of the cloud-based note-taking service's desktop tool. Version 5.5 contains one major new feature of note: support for descriptive search.
The feature, currently only available to English-language users, is accompanied by a number of minor bug fixes and tweaks. It follows on from the recent updates to both Evernote for iOS 7.3 and Evernote for Android 5.7
The descriptive search feature allows users to now search for content using more natural search terms, such as "notes from Vancouver" or "notes with images since 2010". The tools supports a wide range of parameters, including dates, apps, places, images, devices, tags and even types of content.
It's hoped the feature will speed up searches by making them easier to phrase, and while descriptive search is currently limited to the English-language version only at present, Evernote Corporation promises to roll it out to other locales as well as systems soon.
One other new feature is version 5.5's ability to add business cards scanned using the $500 ScanSnap Evernote Edition scanner to the user's address book automatically.
Other changes are limited to stability and bug fixes, including one resolving issues with the Evernote window and another that led to crashing through sync issues.
The update follows hot on the heels of Evernote for iOS 7.3, which introduced a redesigned home screen containing a number of new customization options, automatic transfer of scanned business cards to contacts and the ability to configure audio notes by either sound quality or file size.
Evernote for Android 5.7 was also released in the past week, although this update was primarily about squashing bugs and providing various improvements, including enhanced on-boarding.
Evernote for Mac 5.5 is available now as a free download for Macs running OS X 10.6.8 or later. Also available are Evernote for Windows 5.1, Evernote Touch 2.0 for Windows 8, Evernote for iOS 7.3 and Evernote for Android 5.7.