Track hard drive activity in real time with Free Folder Monitor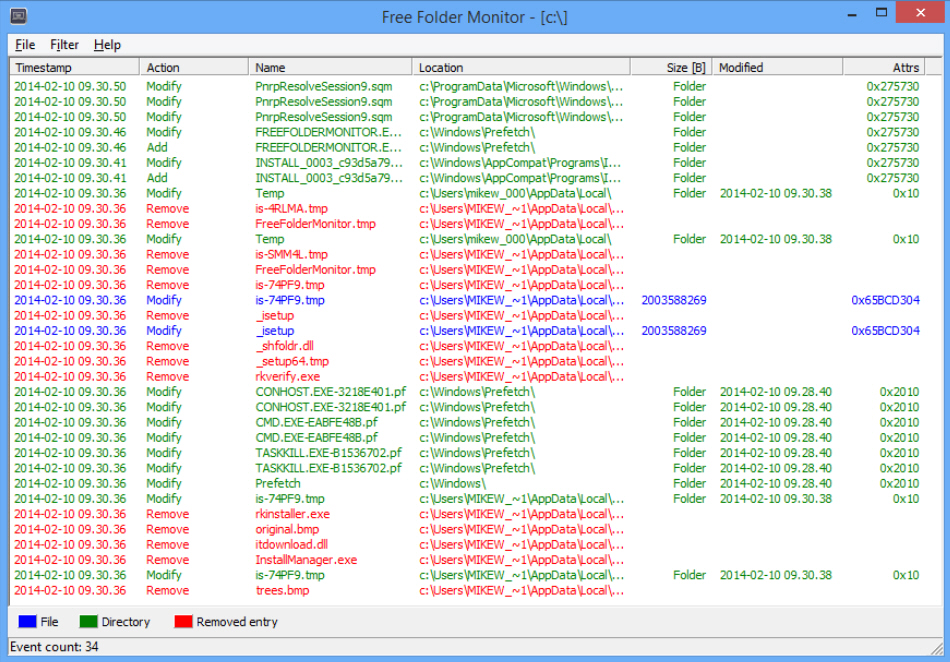 Whether you need to know what a particular installation program is doing to your system, or you're just wondering why your hard drive is busy all the time, being able to track disk activity can be very useful. It's surprisingly easy, too, as Free Folder Monitor demonstrates.
There's a selection of adware to avoid during installation, but get past that and Free Folder Monitor starts to work immediately, displaying current system drive activity as it happens. A table lists the date and time of the event, its type (Add, Modify, Rename or Remove), the file name, size and attributes.
Events are color-coded by type, making the report easier to follow. File or folder deletions are displayed in red, so you can spot them at a glance. You can also ask the program to monitor only particular events -- just Add and Rename, perhaps -- or list only activity in a specific folder.
We had some issues with the program. You can't sort its report by clicking the table column headers, for example. There's no option to save your report, either. And annoyingly, there's no button to start or stop recording events; instead, you must manually click File > Active (it doesn't even provide a keyboard shortcut).
We've seen stronger tools of this type. NirSoft's Folder Changes View is particularly strong. It gives you include and exclude filters, simple configuration saving and recall, and some very capable reporting tools, all in an amazingly small and portable package (a single 83KB executable).
Free Folder Monitor is undeniably easy to use, though, and its color-coded reports should help you quickly identify the information you need. There are better system monitors around, but this is still worth a look.