Set up your own personal cloud for free with Tonido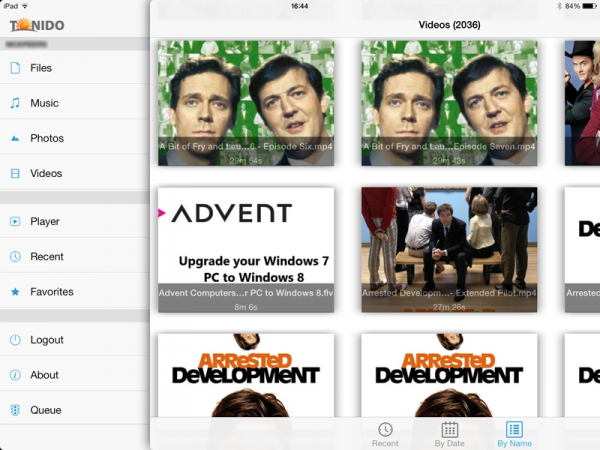 There's a lot to like about cloud backup and sync -- security, for one, and the convenience of being able to access your files remotely for another. But cloud storage can be an expensive option, which is where Tonido comes in.
It provides a trio of tools -- Tonido Desktop and Tonido Sync for desktop, Tonido Mobile for mobile -- that lets you turn your home storage into a personal cloud. So long as your backup needs are catered elsewhere, you can access, share, stream and -- to a limited degree -- sync data without paying a single cent.
Start by designating your main computer -- Windows, Linux or Mac -- as your server. Install Tonido Desktop on this and set up your free account: all you need to do is supply a username and password, and you're good to go.
The obvious thing to do here is supply a memorable username, but seeing as your server will be visible from any web browser -- simply type username.tonodoid.com into it -- it makes sense to choose both a less obvious username and a robust password to keep unwanted people out.
Once the server is up and running, you might want to go further too. Right-click the Tonido Desktop icon in the menu bar or Taskbar Notification area and choose Open to access it via your web browser. First, click Settings, select the Account tab and click Set Remote Login/Answer to add another layer of security -- again, make the question and answer only something you personally know.
Second, switch to the Misc tab and scroll down to the Allowed Folders section. Click Add Allowed Folder to limit accessible folders or drives to only those you specify -- all other folders, including your critical system folders -- will then be off-limits the moment you tick "Enable access to only selected Folders".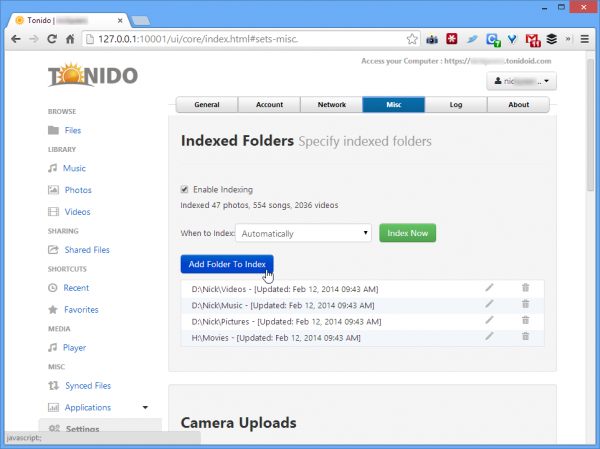 You can now start to enjoy the benefits of Tonido. From this point on you have access to your specified folders from any Internet-connected computer via its web browser or the Tonido Mobile app on your tablet or phone. Just access username.tonidoid.com (where "username" is the username you specified), supply the details asked for and you can browse, view, open, download and access your files and folders with ease. You can also stream media from supported folders.
If you're looking for a means of backing up data, then take a look at Tonido Sync -- install this on your other computers and you can keep a single folder perfectly in sync between them, allowing you to easily access the latest version of key files while also backing them up at the same time. The big limitation here is that you only get 2 GB free -- up this limit to 100 GB by paying $29 a year for the Pro service.
Tonido can also be used to share files with others -- again, there are limits to the free package in the shape of a maximum five guest accounts and five shared folders. These limits are lifted from the Pro account, but for most people they should be sufficient.
We've scratched the surface of what Tonido can offer, but if you're looking for a personal cloud solution that doesn't involving uploading files to a third-party server, then it's well worth giving a whirl: nothing is stored online and you retain complete control. Just make sure you set things up for maximum security.
Tonido Desktop 4.7 and Tonido Sync 4.7 are available now as a freeware downloads for Windows, Mac and Linux. Tonido Mobile is available free for iPhone, iPad, Android, Blackberry and Windows Phone.