Create animated GIFs from videos with QGifer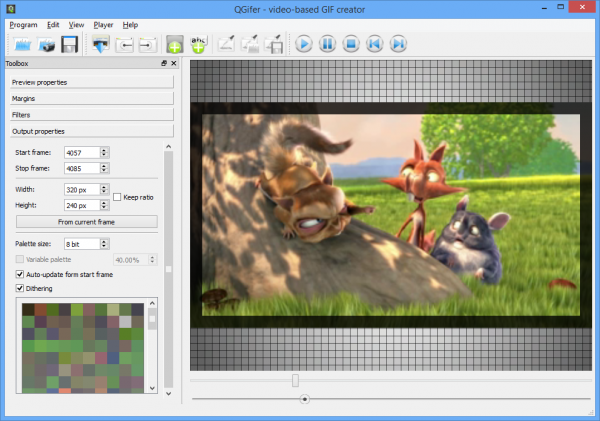 Animated GIFs may be the most dated and inefficient form of animation around, but they can still be useful. In particular, you can use them almost anywhere, no need for a special movie player, and they'll be viewable on almost any device.
As we saw in January, GifCam is an excellent general purpose tool that can record any desktop activity as an animated GIF. But if you're looking to create your GIF from a video, then you might prefer QGifer, which can usually extract the footage you need in just a few seconds.
The process begins by opening your source video (AVI, MP4, MPG and OGV formats are supported). It's displayed in a Preview window, where you can play the clip, scan forward or back, or step through, frame by frame. Toolbar buttons mark the start and end of your clip, and you can be looking at an animated GIF preview in the time it takes to click Edit, then Extract GIF.
What QGifer won't tell you, unfortunately, is the size of the final GIF, so you must save the file and check it manually. It'll probably be too large -- GIFs usually are -- but QGifer can resize the clip, reduce its color palette or number of frames, and this will make a significant difference.
More advanced options include the ability to add a text or image watermark. Select Edit, then Insert Text, for example, and you can enter your preferred caption, choose a font and style, and add it to your chosen frames. This doesn't just get embedded in the graphics, either. The text becomes a selectable object in the Preview window, and you're able to manually adjust its position, size and more.
QGifer does have some obvious deficiencies, in particular at the frame level. Animated GIF creator GifCam makes it easy to delete individual frames of an animation, and adjust their timing (the delay before the next frame is shown). QGifer does neither.
The program is only at version 0.2.1, of course, so limitations are to be expected. But QGifer is already a useful tool, a quick and easy way to extract video to animated GIF, and we hope it survives to see v1.0.