Bing Health & Fitness launches in beta on Windows Phone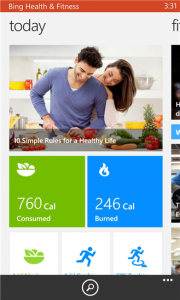 Microsoft is expanding its collection of Bing apps on Windows Phone with the addition of Bing Health & Fitness. The offering, that debuted on Windows 8.1 last year, is meant for "Microsoft testing purposes only", but is available to download for other users as well, provided they want to eat healthy and stay in shape.
"The Bing Health & Fitness app helps you stay on top of health and fitness trends and provides the tools you need to support a healthy lifestyle. Designed for Windows Phone, the Health & Fitness app brings together great fitness, nutrition and health content, along with trackers, tools and other features", says the app's description. Now let's take a look at its features.
Like other similar apps, Bing Health & Fitness works based on the user's profile, which includes data on gender, age, height, weight, a daily calorie target and fitness plans. The last two can be tailored to fit the user's lifestyle and preferences.
The daily calorie target feature works in conjunction with a food tracker, which contains data on over 300,000 foods according to the app's description. Users can add what they eat during the day and, after each addition, the app will calculate the accumulated calories and remaining ones they can consume, with the latter figure depending on the initial target set by the user. There the option to sync the data is listed.
Keep in mind that the provided values for, let's say yogurt, may not match those listed on the tub, so pay close attention to the accuracy of the data you use. Also, such apps cannot provide accurate information for home-made foods, which may be a nuisance for those who like to cook their own meals (and render the counter useless).
The app also displays a history for later analysis, which provides an average figure for calories, carbs, fat and protein, as well as individual breakdowns (in weight and percentages) for fat, carbs and protein. The history can be set to show either the last seven or 30 days.
There are various diets listed in the app, including ones for pregnant women, those who have special needs (a peanut allergy for example), or want a quick way to lose weight, which can be used in conjunction with a daily calorie target.
Bing Health & Fitness also provides trackers for cardio, workouts, and ways to check for symptoms and medical data, news pertaining to health and fitness (so you can keep up with the latest developments on the matter), various types of exercises as well as other features.
Those who use Bing Health & Fitness on Windows 8.1 will appreciate that tracker data can be synced with its Windows Phone counterpart, which will allow for a seamless transition for users between the two platforms. This is achieved by logging in with a Microsoft account (the option resides in the menu bar of the Windows Phone app).
Bing Health & Fitness is available to download from Windows Phone Store.