CrowdInspect checks your PC for malware with VirusTotal, Web of Trust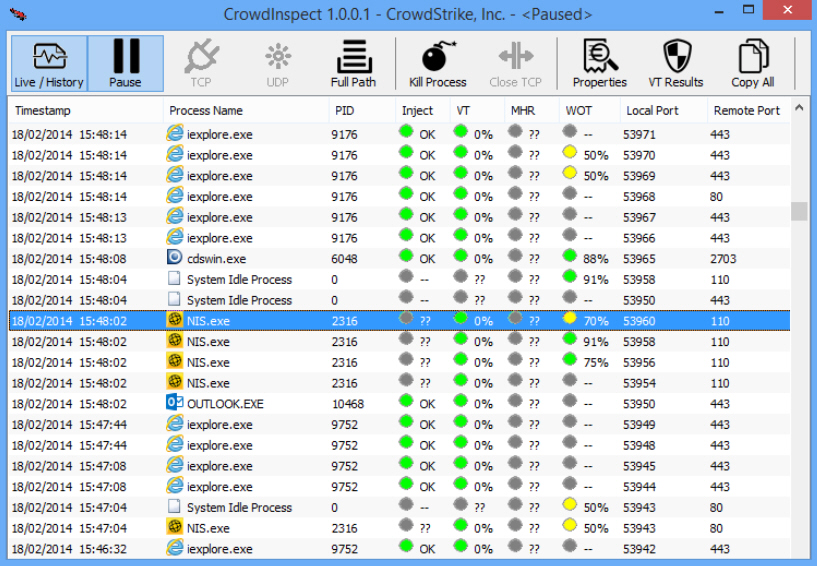 Installing a good antivirus package will protect you from most threats, but there are no guarantees. It's always wise to have one or two "second opinion" tools around, just to help out if you think your system has been infected.
CrowdInspect is a portable tool which uses VirusTotal, Web of Trust and Team Cymru's Malware Hash Registry to reveal (but not remove) malware which is currently active on your network.
The program is free, extremely small (a 237KB download) and very easy to use. Download, unzip and launch CrowdInspect and it immediately identifies every process with an open network connection. A table displays the process name, ID, connection type (TCP/ UDP), local and remote ports, IP addresses and more.
Further columns display the VirusTotal and Malware Hash Registry verdict on each process. A WOT column highlights any untrustworthy domains they might be accessing, and an "Inject" column warns you if code injection has been detected for a process (which could be a sign of malware).
If you need to know more about a particular file, then CrowdInspect can display its full VirusTotal results and Windows Properties dialog. And if you believe you've spotted a problem, then there's an option to kill a particular process.
A "Live/ History" toggle is particularly useful. The "Live" view shows only connections active now, but "History" displays everything that's happened while CrowdInspect has been running. This makes it handy for more than just malware hunting, as you can see which programs have been using your network over any given period of time.
There are some notable issues here. In particular, CrowdInspect can only identify malware when it's connecting over the network. And even then, it can't remove it: you'll need to find a real antivirus tool which can handle that threat.
Still, just knowing you're probably infected is a big step forward, especially when you also have the name of the file. CrowdInspect may not be a complete solution, but it's also compact, free, portable and easy to use. Go grab a copy for your own security toolkit.