How to mimic quiet hours on your Windows Phone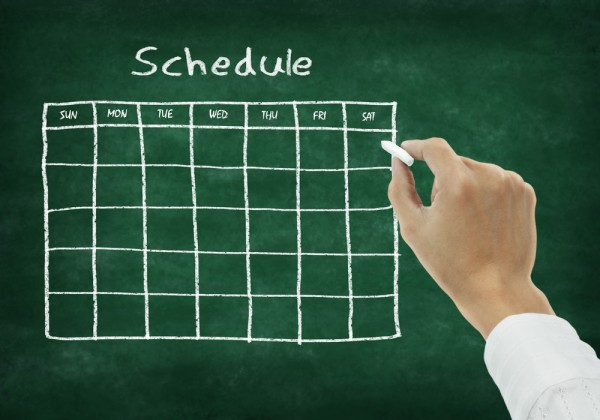 Audible notifications coming from mobile devices can be annoying in some situations, as they can distract us and bother others. Being informed of a new message on Facebook or a reminder to start playing a game again are some things we can postpone knowing about in the middle of the night or an important business meeting. Some companies offer a feature on their devices that allows users to mute sounds during a certain period of time.
Apple offers this under the name Do Not Disturb on its devices, while some Android vendors and Microsoft refer to it as Quiet Hours. Even though Windows 8.1 offers such a feature, Windows Phone has yet to see a similar implementation. But, fret not, as quiet hours can be brought to the tiled smartphone operating system via third-party apps.
The apps that enable quiet hours on Windows Phone have to work within certain limits that are imposed by the OS, meaning that they cannot integrate in the Settings menu or activate the user-set scheduler at any given time (the latter can be done once every 30 minutes when relying on background tasks).
With that in mind, there are a couple of good options to choose from that are now available in Store. The first is called Volume Manager.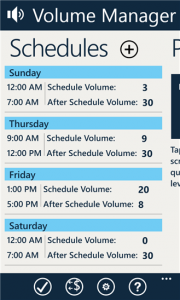 It offers a simple to use interface that allows you to set multiple quiet hours schedules, and the volume level during and after the fact. It also works for appointments, by hooking into your accounts.
To take advantage of the former feature you have to use an in-app purchase, as the offering only allows you to set one schedule per day for free.
According to Volume Manager's description, setting the volume after the schedule only works where there is not another schedule that is set afterwards or an appointment in the calendar.
For easier access to muting a Windows Phone without pressing the physical volume controls, live tiles can be pinned on the home screen, with silent mode and a certain sound level to be applied.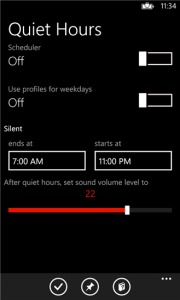 If, for some reason, Volume Manager does not fit the bill there is another app, that is called Quiet Hours, which offers similar functionality.
As you can see in the image to the left, Quiet Hours offers a profile for weekdays, followed by a single scheduler for silent mode and the volume to be set afterwards.
The silent mode feature can be set for individual days when the weekdays profile is activated, allowing you to tailor it depending on preference or personal schedule.
Like Volume Manager, it can be used to pin live tiles to the homescreen with a toggle for quiet hours as well as set volumes.
Sadly, Quiet Hours shares the same limitations as Volume Manager.
Volume Manager and Quiet Hours are available to download from Windows Phone Store.
Photo Credit: MR.LIGHTMAN/Shutterstock