Opera partners with TiVo to bring apps to US TVs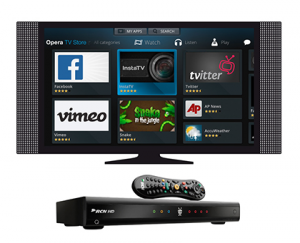 Smart TVs have become all the rage, bringing the world of apps into the living room. But other devices, like Blu-ray players and set-top boxes, can do the same thing. Now TiVo, a pioneer in the DVR field, is partnering with Opera to bring its app store to customers.
This isn't for all TiVo users, only for those on US cable service RCN. Opera, largely known as a Norwegian browser maker, is one of the biggest forces in the smart TV business, maintaining an app store it licenses to device makers.
"The Opera TV Store -- an HTML5, cloud-based application solution -- enables premium, over-the-top content for Smart TV devices such as from TiVo. It empowers RCN to offer more entertainment options and brings subscribers a rich selection of video, music, games, social media, news and utility apps for the biggest screen in the home", the company announces today.
The Opera app store for TVs contains hundreds of apps, including Facebook and Twitter. RCN is the first US cable provider to partner with the service, which has previously been largely available in Asia and Europe. The service will also gain access to user statistics about app usage for its customers, provided by RCN.
"Opera Software has worked in the pay-TV operator space for more than 10 years, powering portals and premium content through the Opera Devices Software Development Kit", says Aneesh Rajaram, Vice-President of TV & Devices at Opera Software.
This will bring more choice to subscribers, albeit on a small scale, as the RCN market is a bit limited. However, it's a good start for Opera in the US.