Office Online replaces the cumbersome Web Apps, Microsoft admits its mistakes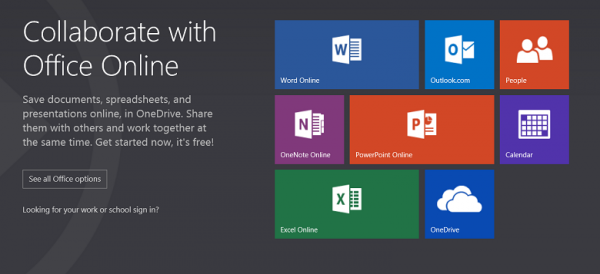 After launching SkyDrive replacement OneDrive yesterday, Microsoft announced, today, Office Web Apps is also out of its cloud lineup and, instead, Office Online is here to take its place. To prove that the change is not for change's sake, the software giant designed the new suite to be easier to find, with other new features also being offered.
Office Online takes a first step in the right direction, as it is available directly from Office.com, unlike the now-defunct Office Web Apps which users had to access via SkyDrive. The former's address is easy to remember and, indeed, makes it easy to find. And it is not just Office Online available there, but also Outlook.com and the complementary Calendar, People and OneDrive. More consumer-facing, cloud-based Microsoft services listed in one place is a clever strategy, especially when it is combined with a streamlined page design. Marketing starts there for the online version of Office.
The Admissions
"We heard from customers that the inclusion of Apps in our name was confusing", says Microsoft. "Are they something I install? Do I go to an app store to get them? No, to use them all you need is a web browser. Ah! You say. So it's like Office, online. Yes, exactly. Office Online". Considering that Office Web Apps launched in June 2010, I would say that Microsoft took its sweet time to figure this one out.
"Secondly, a lot of you don't know that we have an online version of Office because you just couldn't find it", admits Microsoft. Yes, that is also true and I blame the tight SkyDrive connection for it, which, like I said, had forced users to access the cloud storage service to create Office content.
What Else Is New?
Like the traditional version of Office, which is available on PCs, the new Office Online provides access to "hundreds" of templates for Excel, PowerPoint and Word. There are also budgets and resumes, among other things.
Office Online features a tab at the top of the page which provides quick access to its apps and the Outlook.com suite, making it easy to jump to reading an email and moving back to composing a Word document.
Good First Step
I, "honestly", like this approach, for the reasons I mentioned above. Right now, Microsoft feels like it is starting to understand consumers and adapt to their needs, and really, really trying to get ahead of its competition. The next step would be to really beef up Office Online with more features borrowed from its full-fledged PC sibling.