Control your desktop from an Android device with QRemoteControl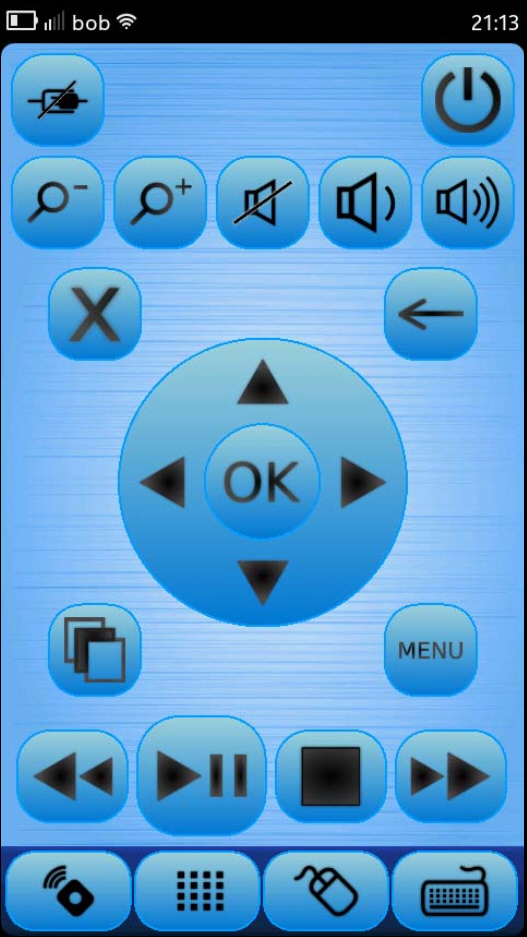 PCs can make great home entertainment systems, at least in theory. But in practice, having to control everything from a mouse (or keyboard) is a major disadvantage.
QRemoteControl can help out by controlling your desktop (PC, Mac or Linux) from a mobile device -- Android, BlackBerry, MeeGo, Symbian or Sailfish -- via Wi-Fi. You can operate a media centre, launch programs, control the mouse, keyboard and more, even if you're in a different room.
Setup is generally very straightforward. We launched the server component on our Windows 8.1 PC (it's portable, so no installation required), then installed and ran the Android client. Clicking "Search servers" on our phone ran a quick network scan, listing the PC's IP address, and after clicking this we were connected.
The standard control layout is uninspired, but experiment for a moment and you'll soon figure out how everything works. There are cursor keys, an "Enter", backspace and a "Close" button. You can zoom in and out, simulate Alt+Tab, and control media playback in various ways (Play/ Pause, Back, Next, Volume up/ down, Mute, more).
If this isn't enough, your remote control can also act as a touchpad, and a keyboard.
A "User Commands" section provides custom buttons which can be tweaked to launch whatever program or shortcuts you need.
Best of all, there are a host of configuration options. These start at a simple user level, with the ability to set a custom icon for each User Command button, or apply some basic skin tweaks. You're also able to replace the standard buttons with your preferred keyboard shortcuts. And low-level settings covering network communications, cursor acceleration, scroll speeds and more are very helpful in making sure the program works just as you'd like.
We had a few issues with the program. The touchpad would occasionally stop responding; if we took our finger off the screen for a moment, we could put it back and carry on. For some reason, the Alt+Tab button didn't work at all.
QRemoteControl is also easy to set up, simple to use and very configurable, though: if you need a PC remote control then it's definitely worth a try.