HP boosts its mobile business device portfolio with ElitePad 1000 G2 and ProPad 600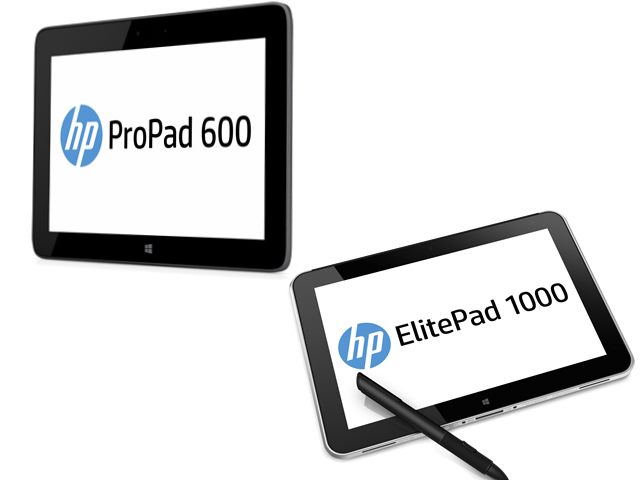 There have been a lot of interesting announcements made at MWC this year, and HP is one of several companies making it clear that business users have not been forgotten. The new HP ProPad 600 has been unveiled alongside an upgraded HP ElitePad 1000 G2, and both have been designed with mobile computing in mind.
Both tablets run Windows 8.1 and the ElitePad 1000 G2 picks up where the HP ElitePad 900 G1 left off. The hardware is impressive enough, but there is a strong focus on battery life and portability.
Battery life is helped by the inclusion of a Qualcomm GobiTM 4G LTE modem, and weighing in at just 1.5lbs and measuring a mere 9.2mm thick, this is one tablet that won't build up your muscles. The tablet is driven by a 64-bit Intel AtomTM Quad-Core processor, backed by 4GB RAM and a choice of 64GB or 128GB of storage. Prices start at $739, and this includes a 1900 by 1200 WUXGA screen featuring Corning Gorilla Glass 3. HP points out that with an aspect ratio of 16:10, there is 5 percent more screen real estate than with the more standard 16:9 aspect ratio.
The ProPad is available from March and while there is currently no pricing information for the HP ProPad 600, this will be announced ahead of the launch in April. This time around there's 64GB of internal SSD storage, but this can be boosted by up to 32GB with a microSD card. As with the ElitePad 1000 G2, there's a 10 inch 1900 by 1200 WUXGA display, and a 2MP front facing camera as well as an 8MP camera on the rear for HD photography needs.
A Micro USB 2.0 port is joined by a Micro HDMI port and the weight of just 1.44lbs make this another easily transported device. The 8380 mAh battery gives up to 8.5 hours of video playback, and the fanless design keeps everything nice and quiet. 4GB RAM is available for the 64-bit model, while the 32-bit version has 2GB.