Screen2EXE is a powerful free screen recorder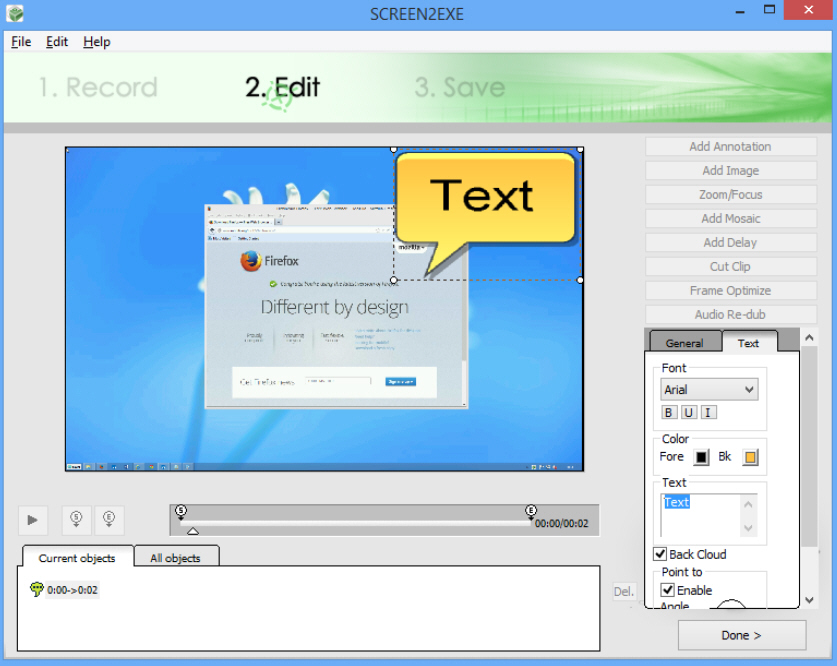 At first glance, Screen2EXE seems much like any other free screen recorder. Set the program to record your desktop activity, edit the results, and save them as a video, ready to share with others. No great surprises.
Spend some time exploring what Screen2EXE has to offer, though, and you'll uncover an array of powerful features.
When setting up a recording session, for example, you can of course choose to capture the full screen, or a freehand rectangular area. But you're also able to select specific windows, or controls within them (a toolbar, say). And you can combine these, selecting several windows, even on multiple displays.
Start capturing and Screen2EXE will of course record whatever's happening on the desktop. But it also adds a click effect to the mouse cursor, so viewers can see exactly what you're doing. And did we mention there's an option to capture audio, too?
Recording can be paused and resumed as necessary. Once you've finished, Screen2EXE opens any results in the editor. Here, as with most of the competition, you can annotate your clip with text captions and images.
Less common extras help you highlight particular areas of the screen, either by zooming in, or masking everything else. You're able to fine-tune the recording by cutting out unwanted sections, removing frames you don't need, perhaps adding delays to others.
A preview window means you're able to check your progress at any point, and once you're happy the finished movie can be exported as a video (FLV, MP4, RM, AVI) or self-playing EXE. We found our test files were extremely small, but options to tweak video resolution and the number of colors can cut them even further.
The program also has some irritations, mostly relating to the interface. It's not always intuitive, and we spent some time trying to figure out exactly how the various features worked.
You'll get past the learning curve before too long, though, and Screen2EXE's powerful editing tools, good range of output formats and tiny file sizes mean it's well worth the effort. Go try it for yourself.