Canonical announces third edition of Ubuntu App Showdown contest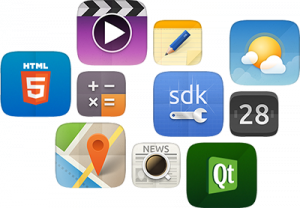 Chickens and eggs are pains in the butt. No, not the actual bird and its ovum, but the causality dilemma. The old argument asks if a chicken or egg came first. Of course, both answers are a dilemma as you need a chicken to lay an egg and you need an egg to get a chicken.
This applies to computer platforms and apps too. People may choose to buy an Android or iOS device because there are a lot of apps. Developers make the apps because a lot of people choose the platform. So, how can a new platform get apps if no one develops for it? In other words, if you don't have users, you wont get apps and if you don't have apps, you won't get users. In an effort to get developers interested in its mobile platform, Canaonical announces the third edition of Ubuntu App Showdown contest.
"Today we announce the launch of our third Ubuntu App Showdown contest! We are excited to bring you yet another engaging developer competition, where the Ubuntu app developer community brings innovative and interesting new apps for Ubuntu on mobile devices", says Canonical.
The company further explains, "contestants will have six weeks to build and publish their apps using the new Ubuntu SDK and Ubuntu platform starting today. Both original apps and ported apps, QML and HTML5, and apps specifically for the Chinese market will qualify for this competition".
There are four categories for which contestants can enter:
QML -- original apps written in QML or with a combination of QML and JavaScript/C++
HTML5 -- original apps written using web technologies, be it pure HTML (and CSS/JavaScript) or with platform access using Apache Cordova
Ported -- apps ported from another platform, regardless of the technology used
Chinese apps -- apps in this category will have to be original and specific to China and the Chinese culture. They will be judged by two native experts in our jury.
Canonical will be giving away Nexus 7 tablets to winners in the first 3 categories. However, two winners from the Chinese app category will win a Meizu device. While these prizes are appreciated, they are a bit...inexpensive. I had hoped Canonical would have delivered grander awards for the effort. However, the true prize is the recognition that the developer will receive.
Do you plan to enter the contest? Tell me in the comments.