How to update Office 2013 RT to SP1

As a Surface 2 owner, I have come to grips with the fact that Windows RT, the operating system on my tablet, is a bastardized version of "real Windows". However, I love the OS, as it works great and is very secure. On the RT variant, the user cannot install classic Windows programs. While many see this as a negative, I see it as a positive -- classic Windows viruses and malware cannot be installed either.
While the user cannot install classic programs, many come pre-loaded. Favorites such as Notepad and Paint are all here, but even better, RT devices come with Office 2013 preinstalled. Recently, there has been much news about Office 2013 Service Pack 1, but the RT version has been seemingly forgotten. Believe it or not, Office 2013 RT also got updated to SP1. But if you cannot download and run an upgrade file from the web, how do you upgrade? Read on for instructions.
With Windows RT, all software will come from two places -- the Windows store or Windows Update. Even though Office is not part of the operating system, Microsoft lumps it in with Windows Update. To access these updates, the best place is on the Start Screen. From there, access the charms bar on the side of your screen by swiping in from the right side. Then, click on "Settings".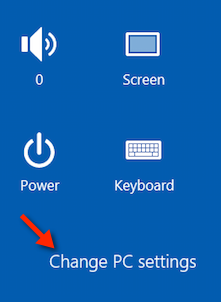 Next, please click on "Change PC settings". This will bring you to what is essentially the Modern UI version of classic control panel, albeit less powerful. From here, please click on "Update & Recovery" and then "Windows Update". You may see many updates, but you specifically are searching for the following: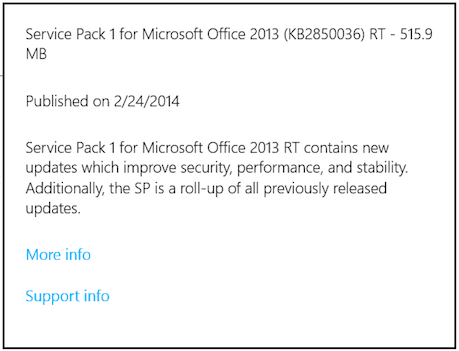 You must put a checkmark next to the update and click "Install", as seen below.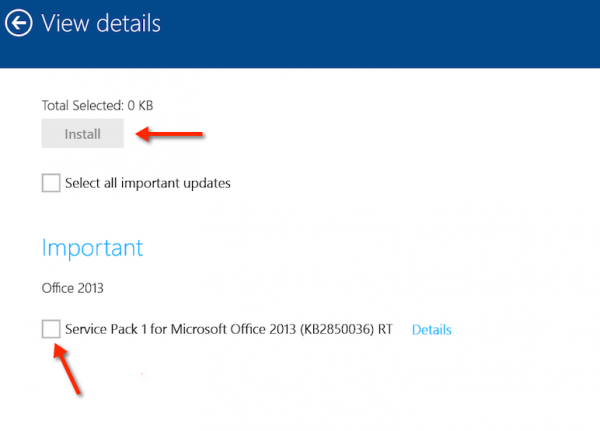 Once the download is complete, you may be prompted to reboot the computer, in order to finish all installation processes. When rebooted, you should find that you have SP1 installed just like people with "real Windows" and "real Office". I was successful in doing this on my Surface 2 and everything went without issue.
Have you upgraded your RT device to Office 2013 RT SP1? Tell me in the comments.
Image Credit: Grounder/Shutterstock