Faststone Image Viewer adds new options, improves existing features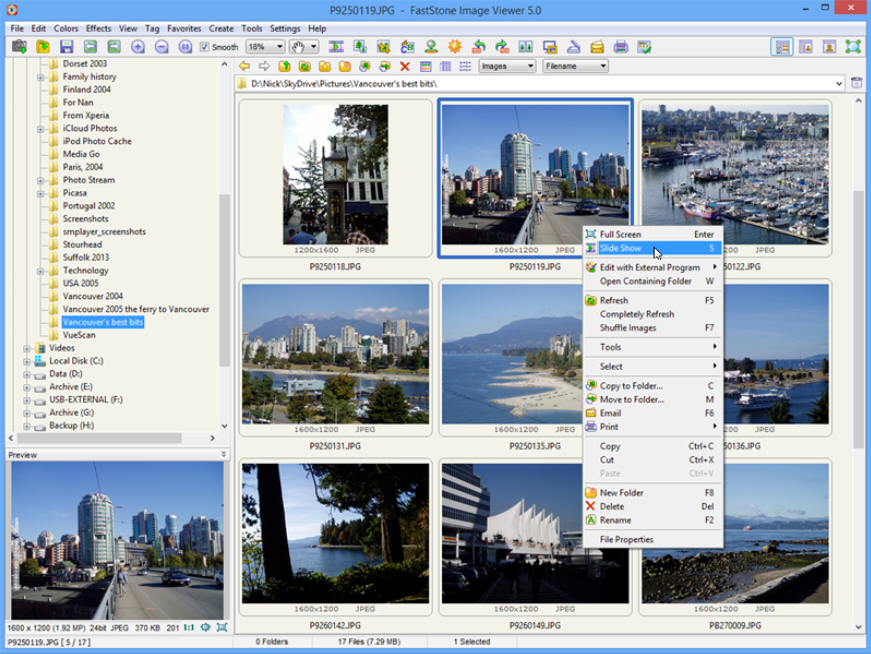 FastStone Software has released FastStone Image Viewer 5.0 and FastStone Image Viewer Portable 5.0 for Windows PCs. The free-for-personal-use tool provides image browsing, converting and editing capabilities.
Version 5.0 adds a number of minor new features, tweaks some existing settings and comes with various minor bug fixes and improvements.
Version 5.0 adds a new option to the Slide Show tool, allowing users to crop the images to fit when displayed in full-screen mode. Users also gain a larger thumbnail size option -- 260×195 pixels -- that's accessible from the Thumbnail tab on the Settings dialog, accessed with the [F12] key.
A keyboard shortcut has been added for the "Auto-Rotate based on EXIF Orientation Tag" setting -- press [Ctrl] + [Alt] + [A] to toggle it on or off.
FastStone Image Viewer's impressive batch converter tool gains an enhancement too: now users can tick the box marked "Do not resize if image is already smaller than requested size" when selecting the "Resize based on one side" option as well as when resizing by pixels or print size (the latter option being introduced in version 4.9).
Users will also be pleased to learn they can now tag and untag images even when the magnifier has been activated. The update is rounded off with the usual raft of unspecified bug fixes and minor tweaks.
FastStone Image Resizer was previously updated in November 2013, when version 4.9 added a new Design and Print option, improved Adjust Curves tool and support for batch renaming video files. The update also allowed users to view an image's location via Google Maps or Google Earth using geotags embedded into the photo when it was taken.
FastStone Image Viewer 5.0 and FastStone Image Viewer Portable 5.0 are both available now as free-for-personal use downloads. A lifetime license covering commercial use can be purchased for $34.95.